Cafeteria Volunteers Needed
---
---
---
Thank you to all who have already signed up to help
out in the Cafeteria this year. We still have a few
openings that need to be filled. Each of the following
shifts has 1 spot left open:

1st and 4th Monday, 1st Tuesday
4th Tuesday and 2nd Friday
There are currently 2 shifts available for:
1st and 3rd Monday, 3rd Tuesday

1st and 2nd Wednesday, 3rd Thursday & 1st Friday
There are currently 3 shifts available for:
2nd Monday, 2nd Tuesday and 1 st & 4th Thursday
Please contact Rebecca Miller at 496-1427 or
rhathaway1977@yahoo.com if you are interested in volunteering.
---
Please contact Michael Bennett if you are interested in coaching girls (5th & 6th grade) Volleyball michael.bennett@stlouis.cdom.org
---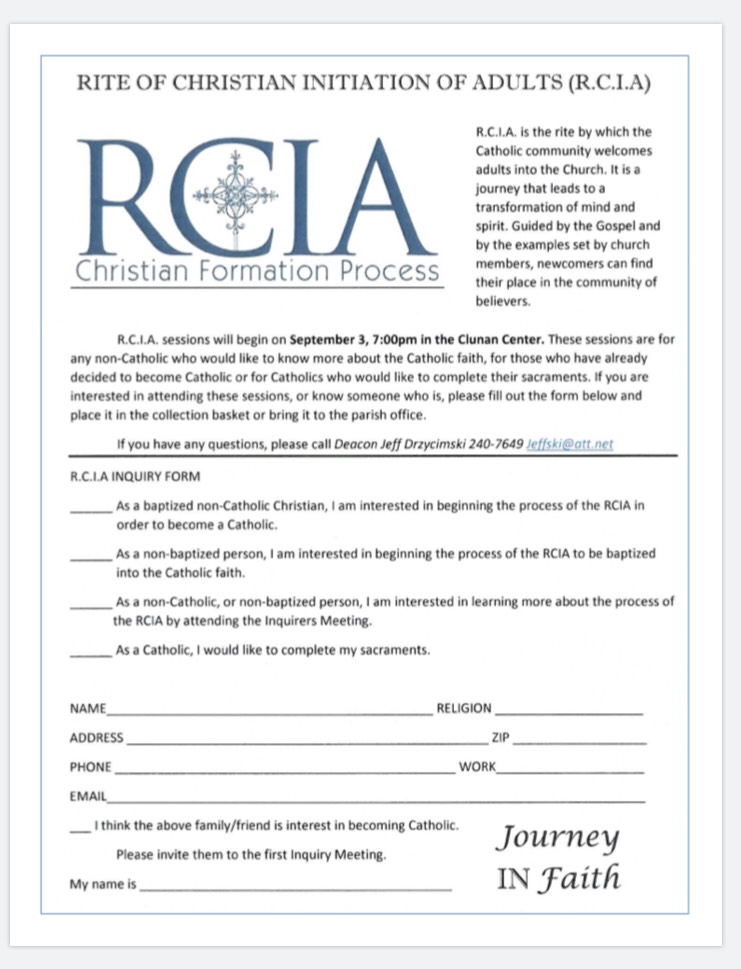 Dear Supporter,
I am delighted to announce that the 2019 Friends of the Poor® Walk will be on September 14, 2019 at Christian Brothers High School at 5900 Walnut Grove in Memphis.
Last year, we raised $55,000 that went toward stocking the food pantry and refrigerators at the Ozanam Center. We served over 54,000 meals in 2018!  The support was absolutely incredible, and this year we're going to multiply that impact with your help.
Please consider making a donation here: 
crowdrise.com/walk-for-me-the-society-of-st-vincent-de-paul-2019-friends-of-the-poor-walkrun-memphis
Your dollars go the extra mile in helping our friends and neighbors in need:
"For a lot of people who are marginalized, it's good for them to be able to go somewhere they know is safe and friendly. They can talk to people and make friends. I think that's important and connection like that is a positive thing for them. A lot of people around here are not working or get so little on Social Security benefits that if we can feed them every day it can help them get by, it's good we're a part of the neighborhood and get to help people here."
 Richard Peyton, President, Memphis District Council (From The Daily Memphian, July/2019)
Please help us surpass our goal of $75,000 by donating and sharing:
 crowdrise.com/walk-for-me-the-society-of-st-vincent-de-paul-2019-friends-of-the-poor-walkrun-memphis
We really couldn't do it without your support.
With Gratitude,
Dawn Campbell
2019 Friends of the Poor® Walk Chairperson
EVERY DOLLAR DONATED PROVIDES TWO MEALS
---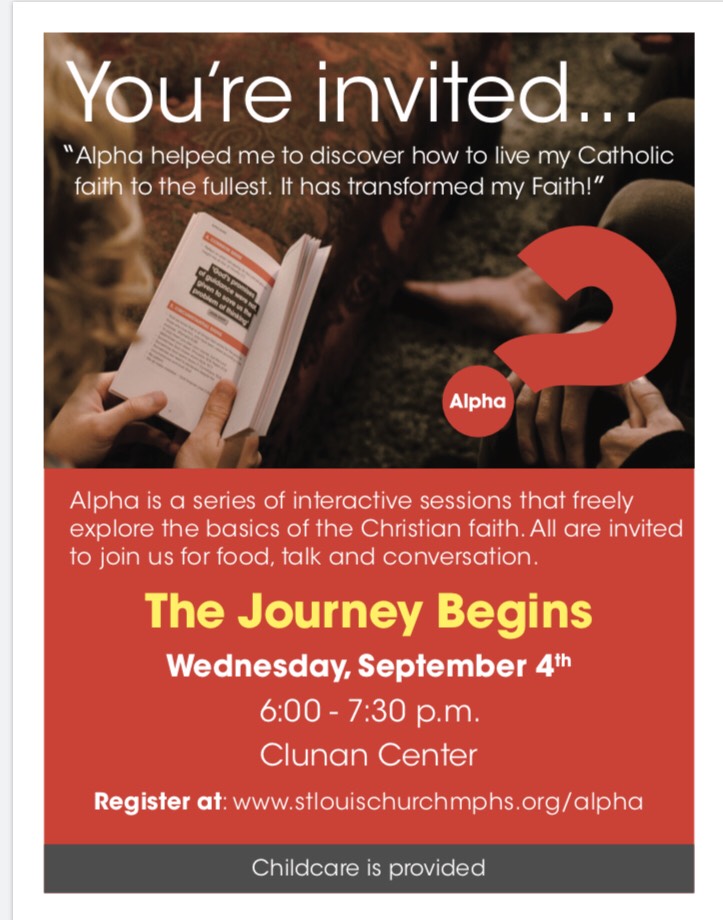 Letter from our Principal
Dear SLS Families,
I am so excited to be entering my tenth year serving as the principal of St. Louis Catholic School. Over the past ten years we have accomplished so much as a parish and school community. Last year we completed a three year journey and became the first Catholic School in the state of TN to receive STEM certification from AdvancED; we also completed our system-wide reaccreditation.
One of our goals for the next five years is to increase all aspects of student engagement.  If our students are actively engaged in the classroom, they will develop a love of learning and will be able to dive into solving future problems and challenges with confidence. Our commitment to STEM certainly feeds into increasing student engagement and furthers our resolve to afford the students exposure to problem solving in the classroom that encompasses real life scenarios pertinent to the community.  This next year, I would like to form a group of parent and community STEM enthusiasts who can offer wisdom on developing more opportunities for our students and teachers to interact with community partners and see STEM in action in the workplace.
A top priority 2019-20 is to get our families fired up about their faith.  We have developed a Religion Engagement Task Force made up of teachers and staff members to look at our current religion curriculum, liturgies, and Catholic Schools Week as well as other facets of our faith. Our goal is to celebrate what is working and to enhance ways to get our families more involved in their faith and the offerings in our parish.
Recruitment of quality teachers is always a goal and we are so blessed with the quality and caring faculty here at St. Louis. This school year we welcome three new faculty members to SLS.  Mrs. Melissa Priola is our new Junior High Literature teacher.  Mrs. Priola comes to us with many years of teaching experience in a Christian school setting in Arkansas.  Melissa taught Literature and AP Literature at Central Arkansas Christian Schools from 1998 to 2018.  Melissa is a graduate of Lipscomb University.  We have moved the literature classroom to the first floor of the junior high building to allow Melissa and Karen Wallis, our grammar/writing teacher, more opportunities to collaborate.  I know that Melissa and Karen will make a great Language Arts team.
Over the summer, Erin Brick accepted a new Learning Specialist position at Christian Brothers High School. We will certainly miss her smiling face and nurturing personality.   Fortunately, when one door closes another door opens as we welcome Mrs. Lori Enos as our new Learning Specialist for Junior High.  Mrs. Enos comes highly recommended from Richland Elementary School.  She taught at Richland her entire career and has decided to retire and come work here at St. Louis.  Lori's son, Weston attended St. Louis in the 7th and 8th grade.  Lori is a National Board Certified teacher.  She received her Bachelor of Education at the University of Memphis, and her Master in Administration and Supervision from Trevecca Nazarene University in Nashville.  She will be offering support services to our junior high students who have learning differences.  Her positive energy and love of teaching is contagious and will be a great addition to our Junior High team.
Mrs. Maureen Hamrick will be joining our Learning Specialist's Team, as well.  Mrs. Hamrick is a parishioner at Our Lady of Perpetual Help and has two sons who attend OLPH School.  Maureen and her family recently moved to Germantown from Pennsylvania where she taught 2nd grade at Gray Nun Academy in Yardley, PA.  Maureen is a reading specialist who has over twenty years of teaching experience.  She has her BA from Temple University and an MA in Education with a concentration in reading, from Holy Family University in Philadelphia, PA.  Maureen will be working with our 1st and 2nd grade students with learning differences and will be assisting the 5th and 6th grade Learning Lab team specifically in 6th grade math and Language Arts.
I know that everyone will make our three new faculty members as well as our fifty new students and their families feel welcome.  I am confident that we will all show the love of Christ in making them all feel a part of our SLS Family!
Welcome to School Year 2019-20!
Sincerely,
Teddi Niedzwiedz
---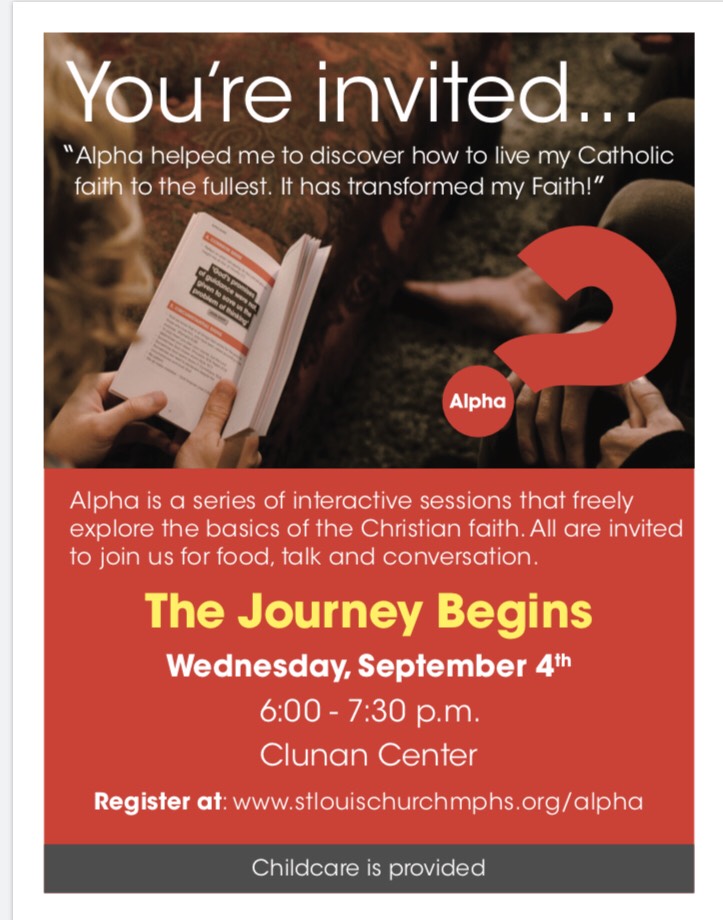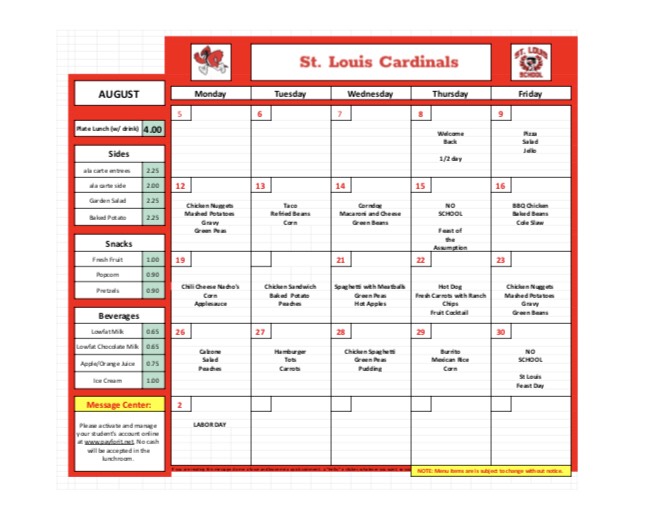 ---
Calling all boys in Grades K – 5!
---
Do you like to camp-out?
Do you like to fish?
Would you like to race a pinewood derby car?
Would you like to attend a NASA Space Camp?
Would you like to explore the caves at Cumberland Caverns?
Do you have 2 hours per month
St. Louis Cub Scouts
ICE CREAM SOCIAL
2019 – 2020 Kick-Off Meeting
All boys in Kindergarten thru 5th grade are invited (with your parents) to eat some ice cream, and sign up for scouts this year.
Saturday, August 17th at 2:00 p.m.
School Cafeteria
St. Louis Church – Cub Scouts Pack 341
Dear Parents,
I hope that I can welcome you and your son into the St. Louis Cub Scouts – Pack 341.   Since 1930, the Boy Scouts of America has helped younger boys through Cub Scouting. It is a year-round family program designed for boys who are in Kindergarten through fifth grade.
The 10 purposes of Cub Scouting are:
Character Development
Spiritual Growth
Good Citizenship
Sportsmanship and Fitness
Family Understanding
Respectful Relationships
Personal Achievement
Friendly Service
Fun and Adventure
Preparation for Boy Scouts
Cub Scouting at St. Louis is designed to complement your son's other activities.  He can play sports, participate in music, etc. and still be an active part of his Cub Scout Den.   His Den is a small group of boys in the same grade that meets once a month.  Den activities and projects are all carefully designed to be age-appropriate and grade-specific … and fun.  The larger Pack (K-5th grade) meets monthly for activities and advancements. That is 2 meetings each month.  Other Pack activities include Scout Sunday mass, Family Camping, hiking, pinewood derby, placing flags on graves at National Cemetery for Memorial Day, and working the cage at Hole-in-One.  When the boys reach the 4th and 5th grade they will have the opportunity to go caving at Cumberland Caverns and to attend Space Camp in Huntsville, AL.
Advancement Plan
Recognition is important to young boys. The Cub Scouting advancement plan provides fun for the boys, gives them a sense of personal achievement as they earn badges, and strengthens family understanding as adult family members work with boys on advancement projects. Your son can enter at any point from Kindergarten to 5th grade. It is never too late to join in the fun.
Lion - The Lion program is designed to introduce kindergarten-age boys and their families to the fun of Scouting. It weaves traditional Scouting concepts of character development, leadership skills, personal fitness and citizenship into activities that are age-appropriate and fun for the boys and their parents.
Tiger Cub. The Tiger Cub program is for first-grade (or age 7) boys and their adult partners. There are five Tiger Cub achievement areas. The Tiger Cub, working with his adult partner, completes 15 requirements within these areas to earn the Tiger Cub badge. These requirements consist of an exciting series of indoor and outdoor activities just right for a boy in the first grade.
Bobcat. The Bobcat rank is for all boys who join Cub Scouting, and introduces them to the goals of scouting.
Wolf. The Wolf program is for boys who have completed first grade (or are age 8). To earn the Wolf badge, a boy must pass 12 achievements involving simple physical and mental skills.
Bear. The Bear rank is for boys who have completed second grade (or are age 9). There are 24 Bear achievements in four categories. The Cub Scout must complete 12 of these to earn the Bear badge. These requirements are somewhat more difficult and challenging than those for Wolf rank.
Webelos. This program is for boys who have completed third grade (or are age 10). A boy may begin working on the Webelos badge as soon as he joins a Webelos den. This is the first step in his transition from the Webelos den to the Boy Scout troop. As he completes the requirements found in the Webelos Handbook, he will work on activity badges, attend meetings led by adults, and become familiar with the Boy Scout requirements—all leading to the Arrow of Light Award.
Cub Scouting involves you, the parent, in the progression of your son through the program.  Your son will take on various tasks and "achievements" designed to help him improve his life skills and gain confidence in his abilities.  Your job is to guide him through the process, lead or support the leader, and then sign off on the achievements in his book.  But you're not done yet … at the next Pack meeting you will be present, along with others, to cheer your son on as he is publicly rewarded for his achievement.
The Cub Scout motto is "Do Your Best".
I hope you will decide to sign your son up for Scouting and help them in Doing Their Best.  What they learn in scouting they will use forever!
Please attend the signup meeting and Ice Cream Social on Saturday, August 17, 2019 in the school cafeteria at 2:00pm.  The cost is $70 per boy for the year.  St. Louis Cub Scouts are supported financially by the St. Louis Men's Club and a child is never denied an opportunity to participate in Scouting because of funds.  See the Cubmaster if your child is interested but you feel you cannot afford the fees. Please contact me if you think you may be interested but concerned about the time commitment in combination with your son's other activities.
Sincerely,
Mike Price
Cubmaster
Cell Phone: 901-301-2675
Email:  mikepricejr316@gmail.com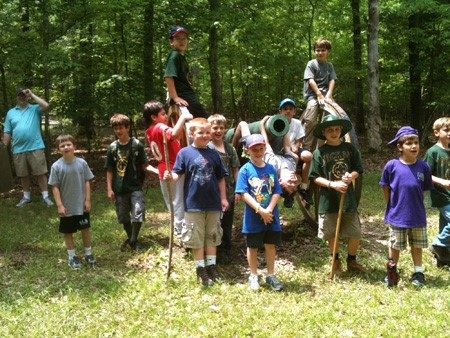 ---
---
In case you missed Mr. Mullins at Back-to-School Sunday, use the links below to sign up for Choir & Drama Club!
More information will be emailed to parents who register.
4th- 8th grade Choir
(Practice is every Thursday from 3pm-4pm) 
1st-3rd Grade Drama
(practice will be on Tuesdays from 2:30-3:15 or Wednesday from 3-4)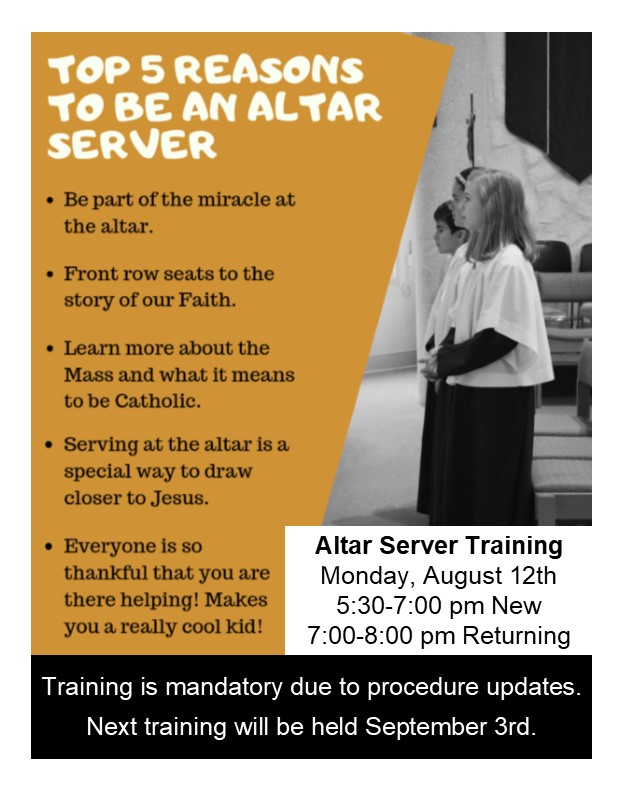 ---
St. Louis Fleece
This Port Authority jacket will have the standard St. Louis logo embroidered on them. The really good news is that the proceeds from these jackets will go directly to the school. Jackets will be ordered as needed though this order form.  If you are interested in purchasing a fleece, please fill out this form and return to the school with a check or cash only. (Sample sizes available in the school office.)
Youth sizes:  XS, S, M, L, XL                       Cost Per:   $40
Adult sizes:  XS, S, M, L, XL-XL6                Cost Per:   $45
Name of student________________________________
Size___________________Quantity________________Total__________
Cash_______Check #__________
Name of parent__________________________________
Size___________________Quantity________________Total__________
Cash_______Check #__________
If you have any questions, please contact:
Tiffany Kee @ 901-246-4652
or
Tracy Berry @ 901-830-4973
Looking for a past Wednesday Wire? Click here to browse them all!
---