---
---
---
FEB. 21, 2019
IN THE GYMS
5:30PM - 7:30PM
---
ALL FAMILIES ARE WELCOME!
SIXTH GRADE STEM FAIR PROJECTS DISPLAYED AND WINNERS ANNOUNCED AT 7:00PM
STEM ACTIVITIES IN THE OLD GYM
SAMPLES OF STEM PROJECTS FROM PRESCHOOL TO 8TH GRADE
STEM CAREER FAIR-NEW GYM
If you are interested in sharing your excitement about your STEM career with our students, please contact Teddi Niedzwiedz (teddi@stlouismemphis.org).
Davis Family
SLS Auction Meal-a-Week
---
The Davis Family is the winner of the 2018-2019 SLS Auction Meal-a-Week.
We thank them for their support of our school and need volunteers to help us provide them with one meal each week throughout the School Year!
Click Here for to Sign-Up for Davis Family Dinners https://www.signupgenius.com/go/508044ca9ac292- mealaweek
Thank you all for supporting our Home & School Association!!
Please Contact Kate Stakem 901-218-5033 (kstakem@stmarysschool.org)with any questions.
---
Thank you to everyone for helping the American Heart Association! Our event raised almost $4,000 for this wonderful organization!
---
Will meet Wednesday, February 13 Until 4:00 in Mrs. Mosteller's room. Students in 5th or 6th grade that are interested in competing in the Memphis Catholic Competition In March may come.
The date is not announced for the competition yet.
---
Spring Parent Teacher Conferences
---
We are offering evening hours for parent/ teacher conferences on Wednesday, February 13th . Parents may sign up for a time slot by following the link below:
https://www.signupgenius.com/go/10C0C45A5AB2FA6FD0-february
If your child's teacher does not contact you, you are NOT required to schedule a conference. If you have any questions or concerns, please DO schedule a conference or email your teacher. Please contact your teacher by email if the times offered do not work with your schedule. Your teacher will contact you directly to select a time that works for both of your schedules. Thank you for partnering with us to educate your children in a loving, Catholic environment!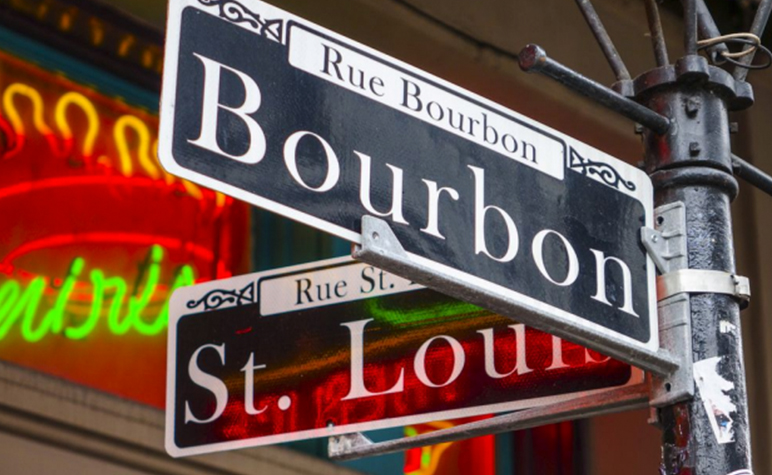 ---
VOLUNTEERS NEEDED SIGN UP HERE!
---
A NIGHT IN NEW ORLEANS IS DRAWING NEAR
WHICH MEANS WE MUST HAVE VOLUNTEERS!
MANY JOBS MUST BE DONE
TO ENSURE THIS JAZZY NIGHT OF FUN!
THIS TIME WELL SPENT YOU WON'T REGRET
YOU MAY EVEN GET TO KNOW SOMEONE YOU HAVEN'T YET!
WORKING TOGETHER IS WHAT MAKES IT NEAT
LETTING THE GOOD TIMES ROLL WHERE ST. LOUIS MEETS BOURBON STREET!
DON'T HAVE TICKETS YET??? THEY ARE GOING FAST
Vacation Bible School
Presented by
St. Louis Catholic Church
---
---
---
The Vatican Express with St. Jerome
for children four years old through fourth grade.
Parents are encouraged to register their children for five DAYS of sensational skits, exciting Bible stories, creative crafts and amazing music!
FUN is just around the corner. Fasten your seatbelts for the ride of your life!
All Aboard the Vatican Express!
The program will be held on:
Dates: June 3 rd – June 7 th
Times: 9:00am – 12:30pm
Location: St. Louis Catholic School
Don't miss out on this spiritual adventure of a lifetime!
Registration Information for Campers and Volunteers Coming Soon…
Volunteer Opportunities available for students (5th grade through high school) and adults…service hour workdays will be available starting soon. PRE and Religion teachers will be sent a schedule to pass on to students. For more information please contact Stephanie Novarese stephanie@novarese.net
Welcome to the first year of the American Heart Association's Kids Heart Challenge!
This fundraiser is the same as Jump Rope and Hoops for Heart but it now includes ALL heart-healthy exercises!
Instead of a single event day, students in grades 1-6 will participate in the Kids Heart Challenge during all PE classes in January. We will have several contests and activities that include jump rope, basketball, running, and dancing!
Students will also have a chance to be part of the Heart Challenge at home by exercising at least 60 minutes a day. They can record all of their active minutes on the calendar provided, turn it in at the end of January, and add their name to our challenge wall!
All of the American Heart Association donations and the Heart Challenge calendars will be due at the end of January. Thank you and good luck in the challenge!
Please join us for the
St. Louis Men's Club
12th Annual Mardi Gras Dinner & Parade
---
When: February 23 at 5:30pm
Where: The Dining Hall
Contact Greg Crone if you plan to have a float (359-2893 or croneg@bellsouth.net) or if you have any questions. Decorations are welcome but not required and the Men's Club provides all the beads and throws!
Students who participate will earn a jeans day Feb 25th!!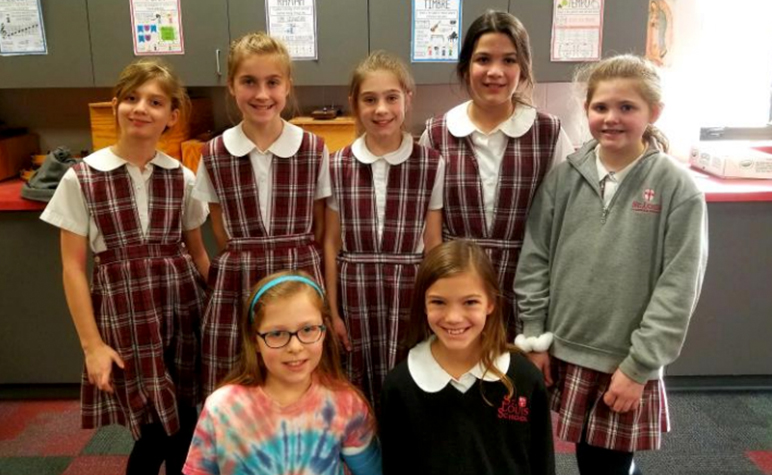 ---
These St. Louis Children's Choir members have been selected to perform in the West Tennessee General Music Educator Association's Festival Chorus!
When: February 15, 2019 at 5pm
Where: 1st Baptist Church in Millington, TN
Admission is FREE and our own, Mr. Mullins will be honored as the new president of the association. Over 300 students from all over West TN are expected to attend!!
Image here****
(Juliana Jackson-Meadows, Hallie McBride, Claudia Durante, Emma Goughnour, Maria Brown, Dominic Gray, & Emma Caesar)
2019 CBHS VARSITY CHEERLEADING
TRY-OUT INFORMATION
---
---
---
Open to 9th – 12th grade (starting Fall 2019) girls attending St. Agnes Academy and Immaculate Conception.
Please visit our website, www.christianbrotherscheer.com, for ALL information for the 2019 Cheer Season! You can email christianbrotherscheer@gmail.com with questions.
---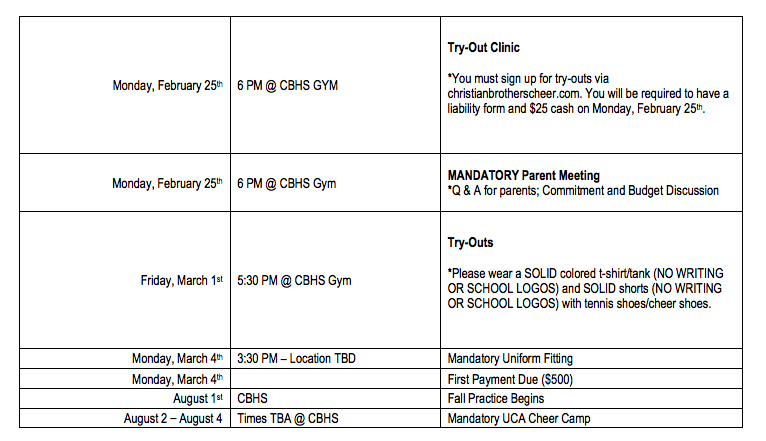 Looking for a past Wednesday Wire? Click here to browse them all!
---