---
---
---
Dear St. Louis Friends and Families,
---
As we approach Holy Week and Easter, I love the focus we have on Christ's great sacrifice and gift of salvation. The Lenten music, Stations of the Cross, the focus on God's infinite mercy and love for us, spring flowers bursting forth, the daily praying of the Act of Contrition, and the upcoming student penance service all lead us to a closer, deeper relationship with Christ. This is why Catholic Schools are worth the investment for our children. Not only do our children have the opportunity to learn in a safe and challenging environment but they work on their relationship with Jesus every day.
Also, during this season, it is always a great time for me to count my blessings as a Principal here at St. Louis Catholic School. One of my favorite things to do when I go home is look on Facebook where Kim Pesce, our wonderful Admissions and Marketing director, posts all the amazing learning experiences our very dedicated teachers provide our student body. I am always in awe of the many Seesaw Videos and pictures that are shared with everyone. These give a firsthand peek into the challenging, hands on, lessons and curriculum that we offer here at St. Louis; and also the great fun that our students have while learning.
This week has been especially fun for me as I worked with various classes in our new Cardinal Crops Educational Garden located near the flag pole on the corner of the property. Not being an experienced gardener myself, I have relied heavily on a wonderful Gardening Committee made up of parents and parishioners who have assisted
in planning the construction of the garden, creating a planting schedule, and so much more. The students, faculty, and staff are all learning together about growing vegetables. We are also thankful to Jack Scherson and his family/ friends. Jack took on building the garden for his Eagle Scout project and it looks great! So far the students have planted broccoli, cauliflower, herbs, tomatoes, lettuce and there is much more to come. Over the summer, Ms. Lori's summer campers will take over maintaining and hopefully harvesting what we have planted.
Another project that is in the planning stages is converting our computer lab to a Makerspace. This will be a messy area where students can program, tinker, design, and create. We will move our Robotics and Computer Explorers programs into this space as well as our 3D printers. We would love to have input from any parents or parishioners who would like to help us plan out this space so that it will be available for our students to use next school year. If you are interested please feel free to email Mrs. Shaw or me. We would love to have your ideas and help.
I absolutely love the process of educating children and working in an environment with such hardworking teachers, caring parents, and a fabulous administrative team which includes the office and guidance staff. I truly feel blessed. Recently, a group of teachers and I attended a Google Tech Summit in Manchester, TN where we learned about the many applications of Google Apps and other tech products that can enhance the learning for our students. It is a very exciting and challenging time to be in education. So much to learn and so much to teach!
Mrs. Shaw and I wish you all a Blessed Easter!
Sincerely,
---
–Mrs. Teddi Niedzwiedz, Principal
April 22
60th Anniversary Celebration
(Mass at 4:30 in the church followed by dinner and drinks; all are invited to this FREE event) Don't forget to RSVP!!
---
April 27
Confirmation at St. Louis
April 28
Field Day 1st thru 4th
May 2
Home & School Officers' Appreciation Dinner
May 3
JK & Kindergarten Field Day
May 5
Field Day 5th thru 8th
May 6
First Holy Communion
May 19
St. Louis 8th grade graduation at 7pm
May 25
Kindergarten graduation
May 26
Last day of school; 11:30 dismissal
School Calendar
found at: www.stlouismemphis.org
---
Mrs. Hubbard and Mrs. Seaton held another exciting State Fair for SLS fourth graders. Students were each assigned a state. They were tasked with researching their states, making poster boards to display what they learned, and creating slideshows to present to their classmates. Students also got to dress like famous people from their states. This year, we saw the president and vice president among many other interesting people from each of our 50 United States. Students, schoolwide visited the state fair so that our fourth graders could show off their work. Everyone did a great job!
---
Congratulations to Dottie Young for creating the artwork that was selected for this year's Cardinal 5K t-shirt. The run which includes a 5K and a 1-mile fun run is an exciting family event hosted by the SLS Home & School Association. Thanks to the many volunteers who coordinated the event, especially co-chairs Tammy Evangelisti and Julie Kate Webster. This year runners and sponsors generously raised money for our school and for Madonna Learning Center.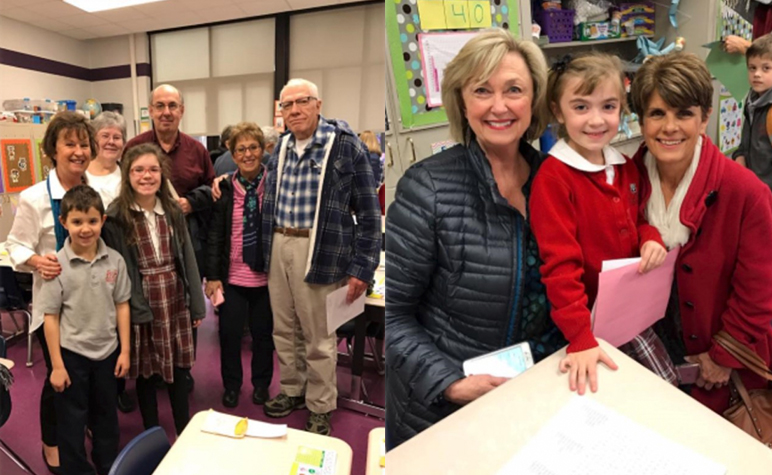 ---
Grandparents Day was a huge success thanks to the hard work of our teachers and students! Students attended Mass with our honored guests, showed them their classrooms, and visited the book fair. Mr. Mullins gave grandparents and special guests a peek into the music classroom at the K4th grade Grandparents' Day program. Each year, we look forward to this special day!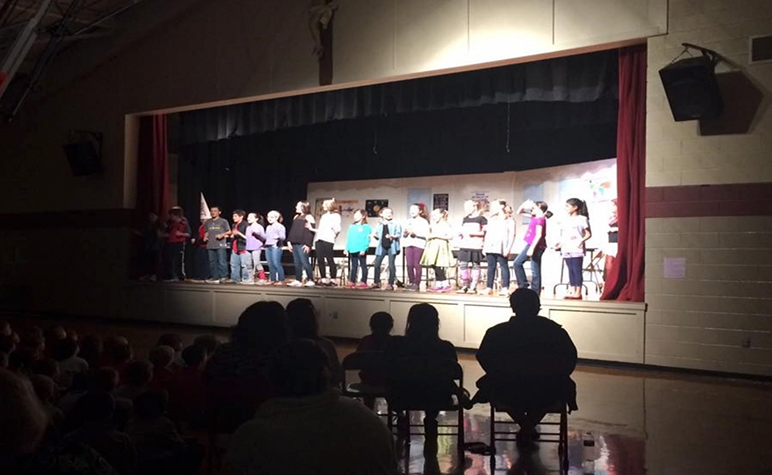 ---
Mr. Mullins directed a fantastic spring play this year! The 4th– 8th grade drama club performed Recess the Musical twice in March, once for parents and once for the school. Both performances showed viewers how hard they worked while preparing for the show. It was funny and entertaining. We were so impressed by the acting and singing! Bravo to all of our young actors and actresses!
---
---
---
Mrs. Carter coordinated the 2017 6th grade Science Fair February 22-24. Students tested a wide range of hypotheses and displayed their findings. The entire student body got to visit the fair and several experts came to judge the event. Finalists were interviewed on Feb 23 and the winners selected.
The winner of the fair was Kaitlin Smith!! Congratulations to Kaitlin and the other top finishers:
Overall:
1st Kaitlyn Smith
2nd Madeline Duffee & Audrey Zweig
3rd John Riley
6A:
1st Madeline Duffee
2nd John Riley
3rd Nicolai Buchignani, McKinley Kee, & Colin Toliver
6B:
1st Kaitlyn Smith
2nd Audrey Zweig
3rd Will Brownlee
These students will all move on to the City Science Fair!!
---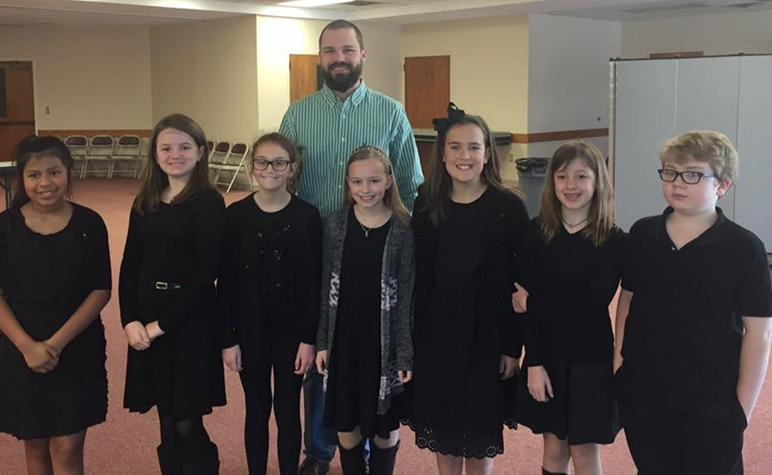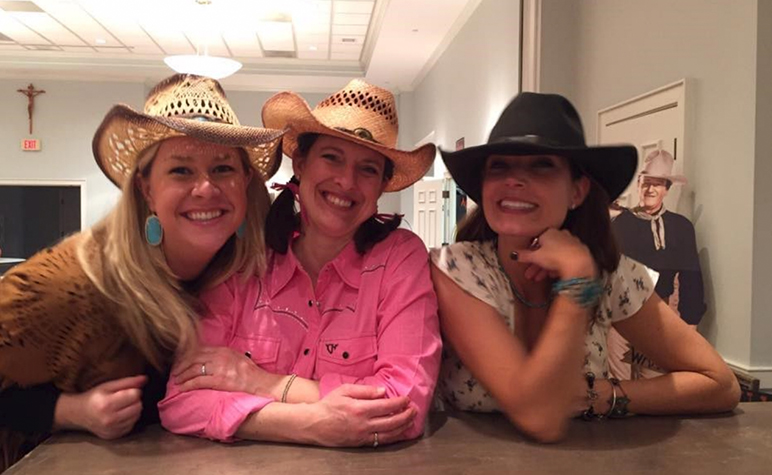 Honors Choir performed at Kirby Woods Baptist Church in February!


Thank you to Kelly Wilson & Jane Wilson for co-chairing the 2017 book fair! It was a successful event enjoyed by students, parents, and grandparents.


There were a record number of floats in the 10th annual Mardi Gras Parade, sponsored by the Men's Club! Check out this President's Day float!


Thank you to our 2017 Auction Chairs, Katie Abart, Kristie Lyons, and Victoria Disalvo! Under their leadership, we raised over $94,000 for our school! The online and live auction items, decorations, entertainment, food, class items, and theme were amazing! This event shows us every year that our school community is dedicated to educating our children in a wonderful environment. Thank you to all who volunteered, attended, donated, and supported our Home & School auction. We are truly blessed beyond measure and our students are the luckiest in the city to have your full support throughout school year!


Jump Rope for Heart & Hoops for Heart
Congratulations to Grant Herring, Ava Wendt, and Andrew Denegri for winning 1st place in their categories this year!! Together we raised $7600 for The American Heart Association!! Special thanks to Mrs. Schauwecker for another successful event. The kids did a great job, showing off their jump roping and basketball skills!
---
---
---
4th Grade: Nate Brownlee, Macie Carr, Joey Drouillard, Will Edwards, Margaret O'Neill, Ava Thomas
5th Grade: Emma Berry, Grady Booth, Cullen Brummer, Hill Canale, Thomas Cassat, Campbell Gossett, Sofie Herbstrith, Stephen Hudson, Christian Novarese, Hunter Reeb, Peter Wilson
6th Grade: Will Brownlee, Lindsey Crossnine, Anne Grimes, Abby Pyrdom, Hana Roberts, Kaitlin Smith, Anna Kate Wade, Ben Wills, Audrey Zweig
7th Grade: Caroline Baker, William Brooks, Auden Brummer, Fontana Cary, Caroline Dorian, Alex Grusin, Jake Herbison, Katie Lamm, Michael Ross, Ethan Soefker, Sophie Spencer, Andrew Wade, Thomas Wilson
8th Grade: Mary Hunter Adair, Ella Almand, Preston Barber, Embry Bird, Mia Cervetti, Maria Cremerius, Livi Edgington, Lilly McCrary, Sean Mullen, Brendan Phelan, Jack Scherson, Caroline Senter, Rachel Ward, Celia Watson, Sophie Wingfield
4th Grade: Bryce Beyer, George Booth, Garrett Brown, Griffin Bryant, John Candiotto, Luke Cestaro, Julia Ebelhar, Sophia Edgington, Sam Fitschen, Molly Gorham, Emma Grusin, Thomas Hayden, Reed Johnston, Vincent Koch, Madeline Marcantel, Jack McBee, Mary Ann Pesce, Abby Price, Claire Rains, Matthew Richardson, Reed Shupe, Audrey Simmons, Josh Tancrell, Grove Thompson, C.J. Weaver, Alex Wendt, Jack Young, John Zweig
5th Grade: Elizabeth Chism, Ayden Coon, Chase Evangelisti, Caroline Gibert, John Goodwin, Griffin Herring, Russell Hossenlopp, Mark Koch, Lila Outlan, Will Perrone, Nicholas Pesce, Claire Ross, Peter Shi, Elizabeth Soefker, Lauren Watson, Peter Weirich, Abby Wood

6th Grade: Natalie Bryant, Nicolai Buchignani, Asher Garrott, Jacob Goughnour, Mary Grimes, Baylor Hill, Alex Johnston, McKinley Kee, Grace Leo, Trenton Lyons, Melissa O'Neill, Emma Pratt, Ward Simmons, Mia Soefker, Ava Trainor, Ava Wendt, Luke Wendt, Cooper Williams, Ava Witmer

7th Grade: Grace Barksdale, Tyler Brimm, Anna Grace Cervetti, Grace Cestaro, Anthony Cestaro, Hadley Donaldson, Johnny Drouillard, Ben Evangelisti, Jane Fracchia, William Gossett, Anna Hooper, Rob Hubbard, Kendyl Lockhart, Haley Lutts, Michael Novarese, Hunter Pratt, Jameson Pugh, Ginny Tavoleti, Hudson Tollison, Madeline Tonole, Sam Wallace, Jacob Wildman, Maggie Wood, Dottie Young

8th Grade: Emily Arangino, Sydney Collard, Matthew Durden, Ean Fagan, Grace Goughnour, Grant Herring, Josh Jones, Oliver Jones, Clay Kirkland, Lydia Koch, Anna Catherine LaBarreare, Amelia Madden, Hayden Meadows, Datlon Miller, Kaitlin Moore, Nick Quarles, Collin Roberts, Olivia Rouse, Dylan Smarra, Jaden Stanley