---
---
---
Dear St. Louis Friends and Families,
---
This time of year is so busy! Teachers work hard to make sure that they are covering all their standards before year end. Families are pulled in many directions with sports, extracurricular activities, work, and family vacation plans for spring break. It is so important to stop, take a deep breath, and give thanks! I personally have been thankful that the rain has passed and the sun has been shining. Taking joy in the simple things in life is a great gift that we need to pass on to our children. Spending time at home, talking around the supper table, watching movies together, and even having family reading time are all things for which we can be thankful. Today I attended Mass with the kindergarten through 4th grade students. I was so thankful to be principal of a Catholic School where every day we can pray and bring Jesus into the discussion. I looked around the faculty and felt so blessed to have such dedicated men and women serving the church and teaching our children.
Our teachers continue to work and learn new strategies and techniques. Many of our teachers have attended professional development workshops recently to learn new, innovative techniques along with what traditional strategies are tried and true. Mrs. Shaw, Megan Hellen, Devin Troy, Beth Carson, Chris Payne and Margaret Reynolds traveled to St. Louis to the Midwest Educational Technology conference. There they learned about
 different strategies to incorporate technology across the curriculum, in particular, how to utilize our 3D printer in problem solving and higher order thinking activities. A team of teachers and I attended the AdvancEd STEM Summit at MTSU in Murfreesboro. Our goal was to see what we could do to possibly get STEM certified when we go through our system wide reaccreditation in 2018. Chris Payne, our librarian and SOARing (gifted program) teacher, attended the Tennessee Association for the Gifted conference. Some of our math and science teachers attended the CBU STEMM CoLab Conference on How to Build a STEMM Curriculum. We also sent a team of teachers to attend the Martin Institute workshop where they learned about teaching children to think out loud mathematically and to problem solve using a variety of strategies. Another workshop that a couple of our Junior High teachers attended was called "The Difficult Student" which focused on classroom management techniques. Early childhood teachers attended Dr. Jean's "Active Learning Adventure" and came back with some fun and new ideas for teaching our younger students. The point of this sharing this is to let you know that our faculty is always engaged in learning. Every teacher is truly dedicated to helping your child grow socially, academically, and of course, most importantly, in their faith formation.
I thank you all for the blessing of sharing your children with us. I wish you a happy and Holy Easter. May God bless all your homes with safety, love, and faith.
Peace and Many Blessings,
---
–Mrs. Teddi Niedzwiedz, Principal
Apr 22
Field Day (grades 5- 8)
Apr 25 - 29
CogAT Testing
(grades 2, 4, and 7)
Apr 29
Field Day (grades K-4)
May 20
8th Grade 
Graduation
May 25
Kindergarten Graduation
May 26
Last day of school
(11:30 dismissal)
Our complete school calendar can be found on our website. www.stlouismemphis.org
---
Mrs. Carter, our 5th and 6th grade science teacher, organized another amazing Science Fair! Medical students from UT came to judge the 2nd round of the competition and were impressed by our students' interviews. We are proud of the projects completed by our entire 6th grade class. This year's winners were: 6A-1st place Jacob Wildman, 2nd place Alex Grusin, and 3rd place Anthony Cestaro; 6B– 1st place Katie Lamm, 2nd place Hunter Pratt, and 3rd place, Ethan Soefker; Overall- 1st place Jacob Wildman, Alex Grusin, and 3rd place Anthony Cestaro. Congratulations!!
---
SLS competed in two math competitions during the 3rd quarter. Fourth through 8th grade students participated in the Perennial Math Tournament at CBU. Cullen Brummer placed 2nd in the 4th grade individual division and Michael Ross placed 3rd in the 6th grade division. The 6th grade team placed 3rd overall! There were over 400 students in this tournament. At the Diocesan Math Tournament at Memphis Catholic, our 5th grade won 1st place overall in the 5th and 6th grade division and our 6th grade team won 2nd place overall in the 5th and 6th grade division!!!! 7th grade placed 4th in their division. Way to represent our school!! Special thanks to the parents and teachers of these amazing students!!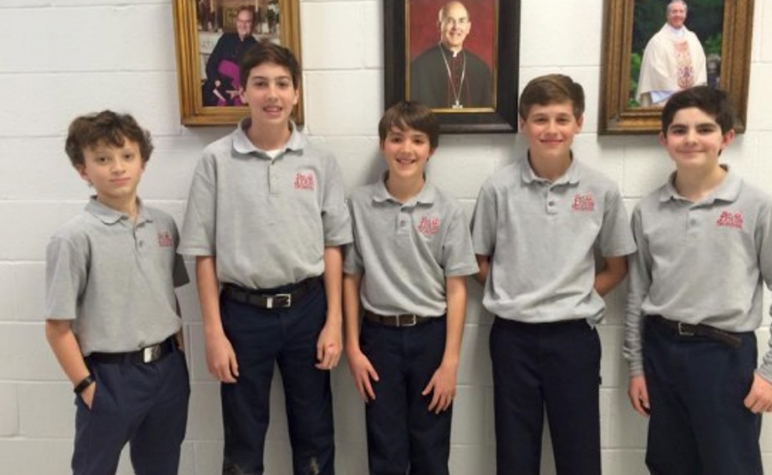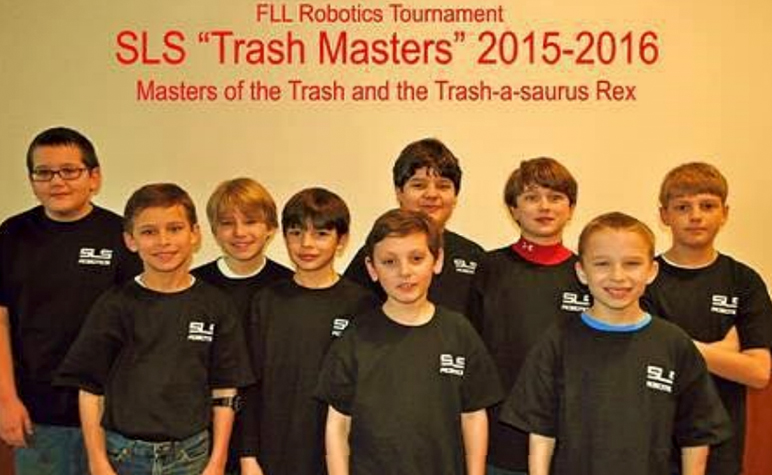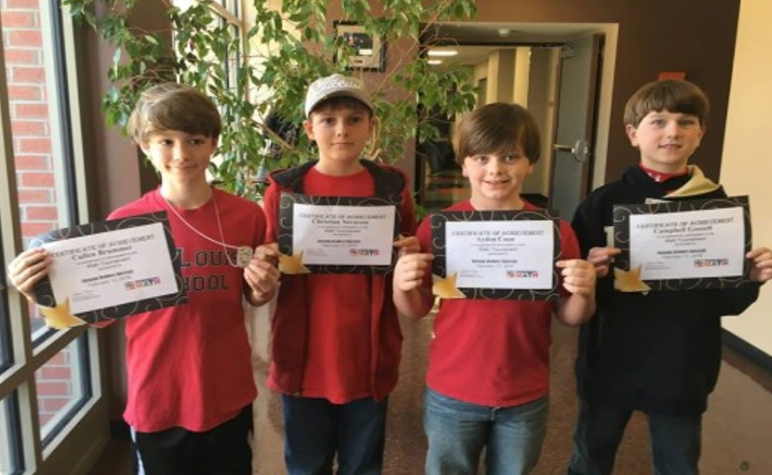 ---
Our robotics teams participated in the FLL Robotics Challenge! In the "Robot Challenge" Cardinal Black (our 4th grade team) came in third place and was only 4 points shy of taking home a trophy! They also shined as a team in the "Robot Performance Judging" with their robot, "The Trasha-saurus Rex"- this is a section of the tournament where two judges query the kids on robot design, programming and strategy, and each of the boys made an informed, valuable contribution to the team!
It was such an exciting day for all of them! The boys had a great first-tournament experience, and learned a mountain of information about the FLL Challenge.
Thad Wilson, Ron Perrone, and Kristi Pesce (4th grade team coaches) are so proud of the team's hard work and commitment!! The boys' parents were amazing at the tournament and throughout the season, too.
Huge thanks to Mrs. Niedzwiedz for putting faith in this program and for investing in a 4th grade team. Huge thanks to Mrs. Scherson for her constant support, guidance, and sharing of information.
Our junior high team took home the 1st place trophy for Gracious Professionalism!
---
---
---
We had many special visitors during Catholic Schools Week! Our pastor, Msgr. McArthur, spoke to the children on Monday, Fr. Ben Bradshaw spoke on Tuesday, and parent, Tera Simmons, spoke on Wednesday. All three speakers shared their personal testimonies about the importance of a Catholic education. Grandparents visited our school on Thursday and Friday for Grandparents' Day. Children and their grandparents celebrated Mass together on both days and attended the Book Fair. On Friday, Mr. Mullins and students in grades K-4 entertained our honored guests with a performance entitled, "SLS Presents The Blues Brothers." We appreciate our speakers, grandparents, and teachers for making this a very special week for our students.
Hats off for Catholic Schools Week
---
---
In addition to having special guests all week, students participated in several other activities planned by our faculty and staff. On Tuesday, children wore hats for the theme, "hats off for Catholic schools week." On Wednesday, children could pay $1 to dress for their future vocations. Money raised was donated to St. Michael's Catholic Church to replace their broken stained glass windows. At the request of our teachers, our priests and Sr. Yosefa also made visits to the classrooms to talk about various topics throughout the week. Mrs. Niedzwiedz and Mrs. Holliday held our annual Catholic trivia contest in the dining hall and students worked in teams to answer questions for prizes. The kids did a great job and had lots of fun!
Like our Facebook page, (St. Louis Catholic School Mphs, TN), for the latest SLS news and updates!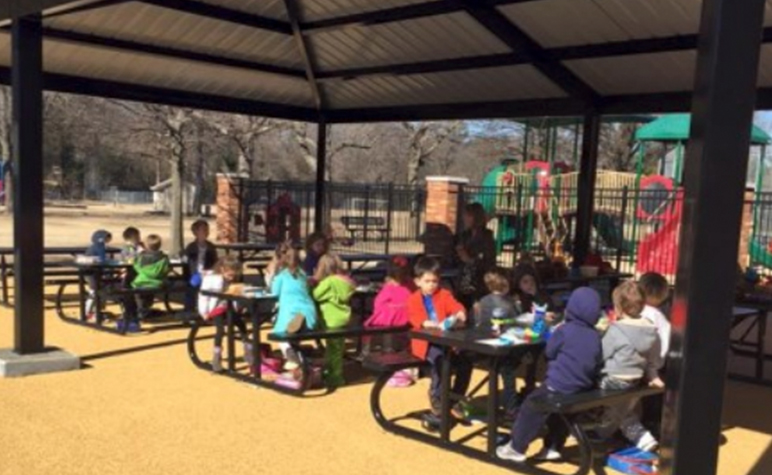 ---
Students are enjoying our new picnic pavilion, located next to the preschool playground. The new pavilion allows students, summer campers, and parishioners the opportunity to eat and play games in a shady spot. We are grateful for this new addition (and grateful that construction was short-lived!!)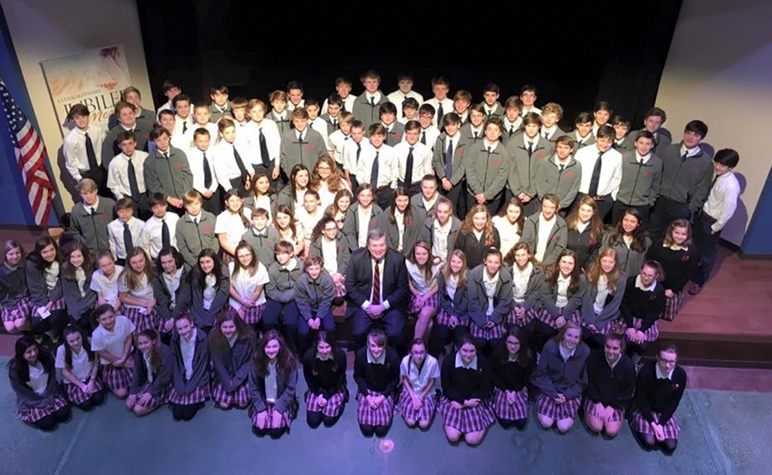 Mayor Strickland Visits Junior High
---
Shortly after taking office in January, Mayor Strickland spoke to junior high students in our new Saint John Paul II Youth Ministry Center . He took questions about his platform and his plans for the city. We appreciate the mayor taking the time to speak to our students. His example is a great reminder that we can make a difference in our community. His enthusiasm for our city is inspiring to us all.
---
Fourth graders participated in our annual States Fair during the 3rd quarter! They displayed their work in the gymnasium for the whole school to see. The students learned a great deal about the states they were assigned and shared that knowledge with students in the other grades. We are proud of their hard work and enjoyed visiting this year's States Fair!!
---
In January, our 5th grade girls and 8th grade boys basketball teams won first place at the Allen Green Memorial Tournament hosted by St. Ann Bartlett. Over 30 teams competed in the 4 day tournament. We are so proud of our Cardinals for finishing on top!!
---
---
---
4th Grade: Cullen Brummer, Thomas Cassat, Campbell Gossett, Sofie Herbstrith, Will Perrone, Hunter Reeb, Abby Wood.

5th Grade: Will Browlee, Lindsey Crossnine, Anne Grimes, Kaitlin Smith, Anna Kate Wade, Ava Wendt, Audrey Zweig.

6th Grade: Caroline Baker, William Brooks, Fontana Cary, Michael Ross, Branic Swain, Ginny Tavoleti, Madeline Tonole, Jacob Wildman, Thomas Wilson, Margaret Wood, Cameron Yergeau.

7th Grade: Maria Cremerius, Matthew Durden, Ean Fagan, Brendan Phelan, Jack Scherson, Caroline Senter, Rachel Ward, Celia Watson.

8th Grade: Phillip Benedict, Ethan Cary, Cole Emanuel, Katherine Emery, Aidan Johnson, Sarah Price, Sarah Reno, Brittan Ross.
4th Grade: Lulu Baker, Emma Berry, Grady Booth, Hill Canale, Elizabeth Chism, Piper Cochran, Ayden Coon, James DiMeglio, Chase Evangelisti, Caroline Gibert, Griffin Herring, Arthur Hooper, Peter Hossenlopp, Stephen Hudson, William Johnson, Emma Rush Jones, Harrison Kane, Mark Koch, Joseph Maichrowicz, Christian Novarese, Lila Outlan, Nicholas Pesce, Robert Senter, Peter Shi, Elizabeth Soefker, J.T. Stovall, Peter Weirich.

5th Grade: Natalie Bryant, Savannah Cook, Madeline Duffee, Jacob Goughnour, Mary Grimes, Baylor Hill, Alex Johnston, McKinely Kee, Lilly Lee, Gracie Leo, William Moore, Melissa O'Neill, McKenzie Patterson, Emma Pratt, Hana Roberts, Matthew Shi, Katie Skinner, Mia Soefker, Ava Trainor, Lucas Wendt, Ben Wills, Ava Witmer.

6th Grade: Madeline Barksdale, Tyler Brimm, Auden Brummer, Anna Cervetti, Grace Cestaro, Anthony Cestaro, Hadley Donaldson, John Drouillard, Ben Evangelisti, Jane Fracchia, Medeleine Gaia, William Gossett, Alex Grusin, Anna Hooper, Robert Hubbard, Katie Lamm, Kate McClusky, Michael Novarese, Hunter Pratt, Ethan Soefker, Sophie Spencer, Andrew Wade.

7th Grade: Mary Hunter Adair, Ella Almand, Emily Arangino, Embry Bird, Aidan Cardosi, Ameilia Cervetti, Sydney Collard, Grace Goughnour, Richard Hauser, Kirk Hecht, Grant Herring, Oliver Jones, Clay Kirkland, Amelia Madden, Lily McCrary, Hayden Meadows, Sean Mullen, Nicholas Quarles, Collin Roberts.

8th Grade: Tyler Brooks, Kaitlyn Broughton, Alexis Connor, Zoie Couch, Katie Cunningham, Jackson Deneka, Cecilia DiMeglio, Mary Evangelisti, Harvey Gower, Joseph Heinz, Amelia Hinton, Kevin Kane, Tom Lamm, Autumn Lee, Jackson Lyons, Marc Anthony Marconi, Andrew Martin, Maddie McGee, Charlie Moore, Sarah Moran, Elle Navarre, Hughes Raiford, Emma Soefker, Spencer Stalnaker, Hunter Stroud, Shelbie Wilkinson, Jeni Grace Wolbrecht.