---
---
---
Dear St. Louis Friends and Families,
---
Happy New Year to all! We are off to a great start in 2016! Teachers and students are back on the job of teaching and learning. Discovery test scores for the second benchmark test went home this month in 1st grade through 8th. I am very excited about the test data that this benchmark test generates for our teachers. They will be able to identify specific standards and skills in which their students need more instruction. Classroom teachers will be able to work in conjunction with our Learning Lab and SOARing teachers to group the students based on the skills that they need to master. This grouping can change based on the weekly performance of the students specifically in math and Language arts. Please remember that we will be testing four times this year. The data points may fluctuate from test to test and may not consistently show growth on each test. The overall goal is level 3, proficiency or level 4 advanced proficiency. Also, this data is just one piece of information along with report cards, teacher's observations, and ITBS spring achievement testing. Teachers receive a formative and summative evaluation each year. Part of the teachers' summative evaluation is based on the average growth of the students on the ITBS spring to spring testing.
This time of year is always a great time to set goals. Teachers have students talk about their New Year's Resolutions; and, we as a school are looking at ways we can continuously improve. We have made a commitment to improve our math and science program by incorporating STEM learning objectives throughout our curriculum, the use of IXL online math practice, and Discovery Assessment Probes targeted students individual math needs. Teachers have attended workshops and continue to develop lesson plans that incorporate science, technology, engineering, and math. Our robotics teams have expanded and thanks to parent volunteers, we have been able to reach
younger grades to form teams and participate in robotics competitions. We continue to provide free math tutoring before and after school, as well as math enrichment for our eighth grade students who may wish to complete Algebra 1 in 8th grade. We just recently purchased a 3-D printer that students can use to design and problem solve.
Language arts skills are definite strengths; however, we are learning together as a faculty how to raise the bar on our school wide writing program. We have been blessed with a generous amount of professional development Title II funds from our federal government, thus we have hired Dr. Richard Potts to work with the entire faculty on ways we can improve our students writing. Since writing and reading go hand in hand, we will be looking at strategies to motivate students to continue to enjoy reading, even after they reach the bewitching grade of 5th and 6th grade. Unfortunately, universally 5th grade often is a time where teachers see students losing their excitement and enthusiasm for reading.
We wish to expand our Learning Lab and SOARing program, offering students more time engaging in enrichment activities for those who qualify and for giving k-6th grade more time with a learning lab support teacher to work with the classroom teachers to meet students' individual needs both in enrichment and remediation.
In February the Catholic Diocese will be sending out the annual Catholic School's Survey. It is crucial that parents and stakeholders take the time to give us feedback on this survey. We use the data from this survey here at the school level to pin point areas of strength to celebrate and areas of improvement. We truly value parent input that we receive as a result of this annual survey.
As always, thanks for sharing your children with us every day. We love them and only want the very best for them.
Mrs. Shaw and I wish you all the best in 2016!
Peace & Blessings,
---
–Mrs. Teddi Niedzwiedz, Principal
Feb 4
Grandparents' Day (grades 5-8)
Feb 5
Grandparents' Day (grades K-4); 11:30 dismissal
Feb 12
Parent/ Teacher Conferences
(no school)
Feb 15
Presidents Day (no school)
Feb 11 - 25
H&S Online Auction www.stlouisauction.org
Mar 8
H&S meeting at 6:30 in the Dining Hall
Mar 11
end of 3rd 9 weeks
Mar. 14
Summer uniform begins
Mar 17
Drama Performance at 1:30 and 6:30 in school gym
Mar 28
Easter Monday (no school)
Mar 29
Professional Day (no school)
---
This year, 8th graders are pairing up with 2nd graders to prepare for the sacraments of Reconciliation, First Holy Communion, and Confirmation. At the first Friday all school Mass in November, the two grades sat together so that the junior high students could help the 2nd grade students learn the prayers we say in Mass. We are so proud of our children for working together to grow in our Catholic faith.
---
Deacon Jeff Drzycimski, host of Catholic Café, is sponsoring a new club at SLS! The radio club aired its first broadcast during morning announcements at school! The first guests on their show were Msgr. McArthur and Mrs. Neidzweidz. We look forward to many more broadcasts as club members learn all there is to know about producing a radio show from right here on the SLS campus. The studio is located in our new Youth Ministry building. We are grateful to Deacon Jeff for sharing his expertise!
---
Our Veterans Day program, sponsored by the Student Council , was held on Wednesday, November 11 in the school gymnasium. The entire school participated in honoring our veterans. (Students are encouraged to invite veterans in their family to attend the program every year and we always have a great turnout of parishioners and family members.) After an all school Mass in the morning, students and our honored guests went to the gym, which was decorated with artwork made especially for the occasion. The St. Benedict band played patriotic music, boy scouts from our church troop #341 posted our colors, and the Student Council officers led us in prayer before they introduced our guest speaker, LTC Ron Scott. He gave a wonderful talk about veterans and reminded us to ask veterans in our own families about their service.
The program concluded with a slideshow featuring pictures of students' family members who have served in the U.S. Military and a wonderful video, "What is a Veteran," produced by our very own, Hughes Raiford. Finally, the Home & School Association receptions committee hosted a reception for our guests. This event teaches our children about honoring those who serve and appreciating our freedom. Special thanks to Ashley Kreitz and Devin Troy, our Student Council, and all of our veterans who attended!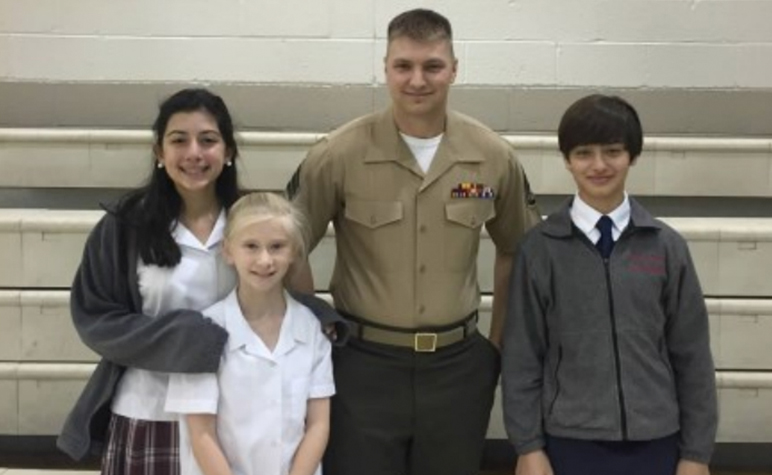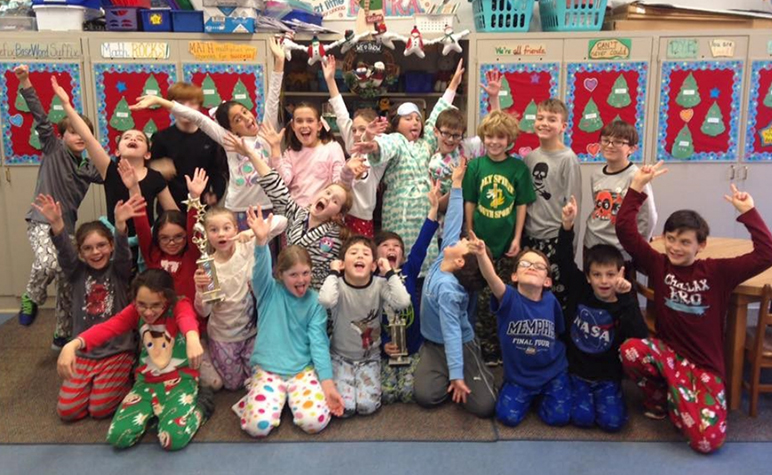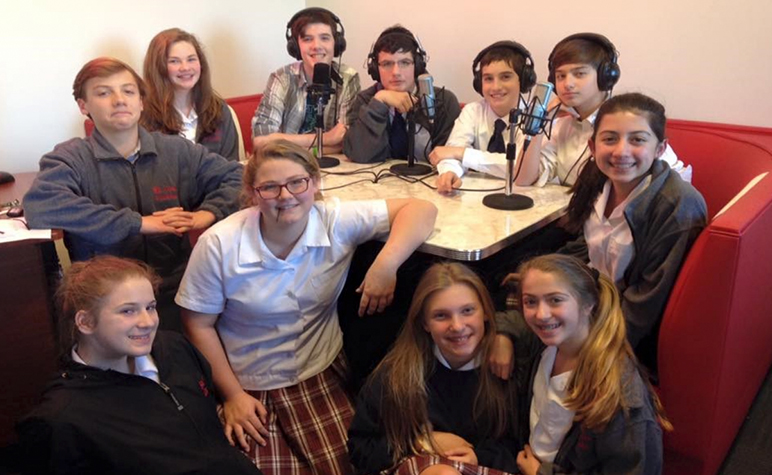 Accelerated Reader Top Performers
---
SLS students work hard to meet their AR goals each quarter. Those students who earn the highest number of AR points over the entire school year will celebrate with an ice cream party in May. The winners of the second nine weeks were: Wilson Jamison, Harrison Herbstrith, Molly Gorham, John Zweig, Sophie Herbstrith, Christian Novarese, Gracie Leo, Hana Roberts, Alex Grusin, and Ethan Soefker. Class 6A earned the most points by one class with an unbelievable, 1,143 points! The highest class average was attained by 3B, who also earned the highest percentage of students achieving their goals at 100%. 3B celebrated by having a pajama day at school. We are proud of all of our students for their hard work and determination to be better readers!
---
The Men's Club Mardi Gras Parade and dinner was held on January 30 after 4:30 Mass in the school Dining Hall. Students, their families, and church parishioners were invited to enjoy a delicious New Orleans style meal and parade. Due to construction, the parade was cancelled last year and we all looked forward to its return. The theme this year was "Favorite Sports Teams." Many classes and families participated and attended and it was a great event! The weather could not have been better and the floats were quite impressive. Msgr. McArthur said it was the best Mardi Gras Parade to date. Thank you to the Men's Club, the participants, and all who attended. We are truly lucky to have such a wonderful church and school community!
---
At our Thanksgiving Mass, children participated in feeding the hungry by donating canned goods to Catholic Charities. This year, students made a paper chain listing all the things for which they are thankful. The chain was carried by students to the altar and placed on top of the donations. Student Council members loaded the cans into the Catholic Charities delivery van after lunch. Thanks to all who sent in canned goods.
SLS Christmas 2015
A Season of Giving & Celebrating
---
---
The Cardinal Christmas Basketball Game
---
---
The Cardinal Christmas basketball game was exciting this year! Each year our Student Council sells raffle tickets to students for a chance to play in the game. The Student Council also collects unwrapped toys from students (the price of admission to the game.) Many toys were collected and donated to Catholic Charities. The K-4th grade student team lost to the faculty team by one point and the 6th8th grade student team won in the final seconds of their game. Highlights of the game included some awesome goals like IT staff member Allen Savage's slam dunk. Geno Spiotta did a great job calling the game while students and parents cheered for the teams.
Principals for the day, Audrey and Ward Simmons and Henry and Ivy Gates declared a jeans day for the school after their busy day observing teachers. We appreciate the Simmons and Gates families for purchasing the Principal for the Day experience at last year's auction. The Christmas game is definitely a favorite tradition among students and teachers alike.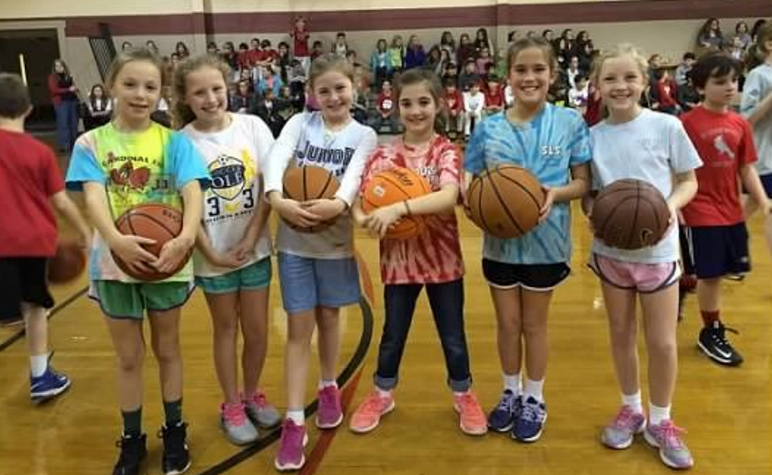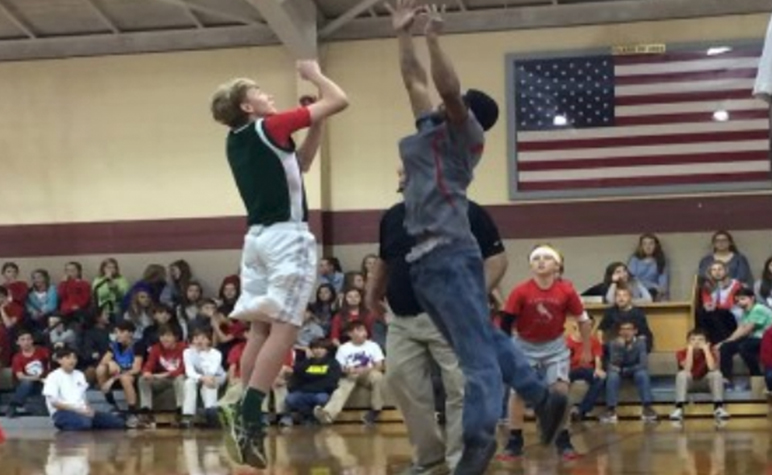 ---
---
Each year, 8th grade students create artwork for our Christmas card contest. This year, Katie Emery and Tate Somers won the contest. We appreciate Mrs. Durden for holding the contest and our students for entering their best work. Art is one of the many special classes offered at SLS so that students can discover their talents beyond the curriculum. Contests held throughout the year allow students from all grades to celebrate those talents. Congratulations to Katie and Tate!
Grizzlies Jeans Day for a Good Cause
---
---
The Junior Beta Club collected $2 from students for a Grizzlies Jeans Day to raise money for an orphanage in the Phillipines that is near and dear to Father Dexter's heart. They raised over $1000 and several Beta Club members shopped for and wrapped the gifts that were to be shipped overseas. Thanks to sponsors, Mrs. Hellen and Mrs. Wallis for leading another successful service project! Thanks also to all the students who donated money.
Kindergarten & Sixth Grade Buddy Gift Exchange
---
---
Our Kindergarten and sixth grade buddies enjoyed getting to know each other during the first semester. Before Christmas break, the two grades got together in the gym for a Christmas gift exchange. Both groups of kids look forward to getting together throughout the school year.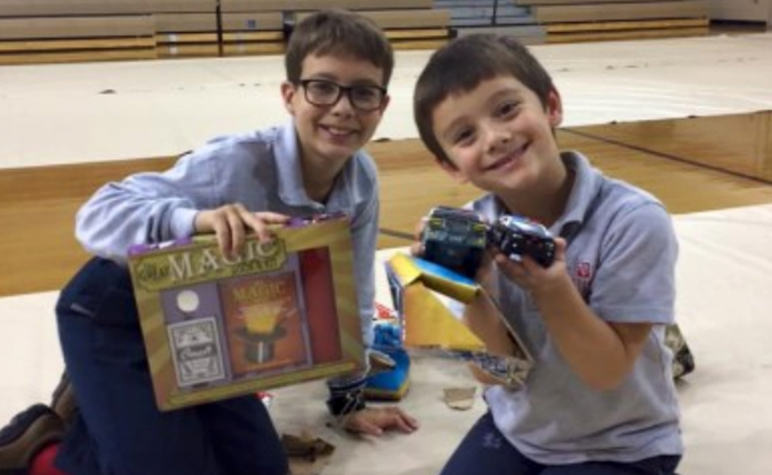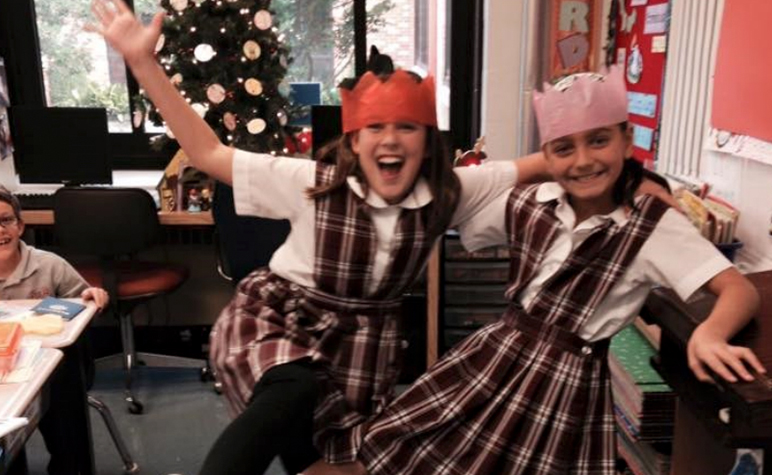 Christmas Around the World
---
---
Students lucky enough to attend 3rd grade at SLS since Mrs. Lazarini has been a teacher here, know that Christmas Around the World is one of the most exciting learning experiences of the season. Both third grade classes get a taste of what Christmas is like in about a dozen other countries around the world. It is an ELABORATE lesson plan that includes tasting food and learning about Christmas customs from other cultures. At the beginning of the lesson, students make passports which they stamp each day that they "visit" a new country. This learning activity is one of the many examples of SLS teachers going above and beyond to make learning an exciting experience for our children.
Get all of these updates and more by liking our Facebook page, St. Louis Catholic School Mphs, TN!
---
On December 12, our second graders made their first penance. As in years past, our second grade students prepared for this special sacrament with the guidance of our second grade teachers, our priests, Deacon Jeff, and their parents. However, we also began a new tradition.
This year, we paired our second graders with eighth grade buddies. We are so proud of the eighth graders who helped our younger students learn the Act of Contrition and who modeled respectful behavior at two all school Masses that preceded the first penance service. While the second grade class may be too young to fully understand the grace provided in this sacrament, we are grateful for the spiritual foundation provided by our school and church community, especially in this year of mercy.
Pope Francis invites us to share God's mercy with all the world this year. How wonderful that our second grade students got to experience that mercy firsthand through confession and penance.
SLS Home &
School Auction
---
The school auction is SOLD OUT!! Thanks to many generous sponsors, local businesses, and SLS parents, this year's auction will be an amazing event! Standing room only tickets are available for $25 per person if you want to attend, but did not buy a ticket in time. Standing room only tickets include admission and a bidder number. Refillable wine glasses and koozies can be purchased for $20 each while supplies last. The auction is at 6:30pm on February 27 in the Clunan Center. The theme is "Boas and Bowties" and attendees will enjoy dinner, a silent auction, a live auction, and live entertainment.
Volunteers will be needed the night of the event, so contact Benolyn Craig at benolyn@gmail.com if you would like to be part of Home & School's biggest fundraiser of the year. The online auction will be held for two weeks prior to the event. Go to www.stlouisauction.org to receive notification when the online event goes live. Many items will be available for bidding, including gift certificates, art, sign up parties, and more!!
---
---
---
4th Grade: Cullen Brummer, Thomas Cassat, Campbell Gossett, Abby Wood.
5th Grade: Will Brownlee, Anne Grimes, Hana Roberts, Kaitlin Smith, Mia Soefker, Ava Trainor, Anna Kate Wade, Ava Wendt.
6th Grade: William Brooks, Fontana Cary, Ben Evangelisti, Alex Grusin, Branic Swain, Ginny Tavoleti, Andrew Wade, Thomas Wilson.
7th Grade: Mary Hunter Adair, Embry Bird, Maria Cremerius, Ean Fagan, Josh Jones, Hayden Meadows, Jack Scherson, Celia Watson.
8th Grade: Sarah Price, Sarah Reno, Brittain Ross.
4th Grade: Lulu Baker, Grady Booth, Hill Canale, Elizabeth Chism, Piper Cochran, Ayden Coon, Aidan Decker, Chase Evangelisti, Jack Gaia, Caroline Gibert, Luke Hecht, Sofie Herbstrith, Griffin Herring, Gray Hooper, Russell Hossenlopp, Stephen Hudson, Mark Koch,, Hayden Moody, Christian Novarese, Will Perrone, Nicholas Pesce, Hunter Reeb, Peter Shi, JT Stovall, Peter Weirich, Peter Wilson.

5th Grade: Lindsey Crossnine, Madeline Duffee, Asher Garrott, Jacob Goughnour, Mary Grimes, Alex Johnston, McKinley Kee, Melissa O'Neill, McKenzie Patterson, Emma Pratt, Matthew Shi, Ward Simmons, Katie Skinner, Luke Wendt, Ben Wills, Ava Witmer, Audrey Zweig.

6th Grade: Caroline Baker, Grace Barksdale, Auden Brummer, Ben Caviness, Anna Grace Cervetti, Grace Cestaro, Anthony Cestaro, Caroline Dorian, Johnny Drouillard, Will Gossett, Anna Hooper, Katie Lamm, Kendyl Lockhart, Kate McClusky, Michael Novarese, John Michael Posey, Hunter Pratt, Michael Ross, Ethan Soefker, Sophie Spencer, Madeline Tonole, Jacob Wildman, Maggie Wood.

7th Grade: Aidan Cardosi, Mia Cervetti, Sydney Collard, Matthew Durden, Grace Goughnour, Oliver Jones, Clay Kirkland, Lydia Koch, Lilly McCrary, Sean Mullen, Brendan Phelan, Trey Price, Nicholas Quarles, Caroline Senter, Rachel Ward, Sophie Wingfield.

8th Grade: Phillip Benedict, Tyler Brooks, Kaitlyn Broughton, Ethan Cary, Alexis Connor, Zoie Couch, Katie Cunningham, Jackson Deneka, Cecilia DiMeglio, Cole Emanuel, Katie Emery, Caroline Evangelisti, Harvey Gower, Joseph Heinz, Ameilia Hinton, Aidan Johnson, Carson Kane, Tom Lamm, Jackson Lyons, Marc Anthony Marconi, Andrew Martin, Maddie McGee, Charlie Moore, Sarah Moran, Ellie Navarre, Hughes Raiford, Emma Soefker, Spencer Stalnaker, Mary Helen Weirich, Shelbie Wilkinson.