---
---
---
Dear St. Louis Friends and Families,
---
We are so happy to have the students back into their school routine! I always love the fact that every new school year is like a fresh canvas, a brand new start. Mrs. Shaw and I love to visit the classrooms and see the happy faces (both teachers and students). We have many goals for St. Louis that we plan to implement this year.
This year we are expanding our one-to-one Chromebook program to fifth and sixth grade. Students are assigned a Google email address that can only be accessed by another St. Louis Memphis email address. The students are utilizing Google Docs and saving their information to the Cloud where they are able to access their work from home. Students are able to share documents with their classmates and teachers. Google Docs also allows students to collaborate with each other remotely and there is so much more. All students work on keyboarding skills in the regular classroom and keyboarding is to be mastered by the time our students graduate 8th grade.
We will continue to collaborate with St. Agnes, CBHS, and St. Benedict to ensure that our students are fully prepared to enter high school successfully. Our junior high teachers will have planned visits to these schools to get firsthand what is expected as our students enter high school, especially in the areas of language arts, mathematics, and science. We also will be providing more time for students to work on their math skills in 1st grade -8th grade. We already have an early morning algebra class for our advanced 8th grade students, and now Mrs. Karen Wallace will be tutoring any 7th and 8th graders in the mornings that need more time practicing math concepts.
In 1st through 3rd grade Mrs. Shannon McCrary will offer math tutoring afterschool free and Mrs. Shannon Kirk will be tutoring in grades 4th-6th, all free of additional charge. Math is such an important area of study that we are happy to offer more time of instruction within this discipline.
Aesthetically, we are improving the appearance of the gyms in the Orians' Center with the assistance of the Men's Club, Home and School, and the church. New bleachers will be installed in the old gym in September and the new gym has a newly finished and painted floor.
I have never been more proud and glad to be a part of the St. Louis School community as I am this year. Everyone reached out with food, emotional support and prayers as we had to say farewell to Mikala Decker, a sixth grade student that died suddenly this year. We will miss Mikala so much, but we know that her memory will live on here at St. Louis through the arts and choir that Mikala loved. After receiving suggestions from a few families, we are currently working on creating the Mikala Decker Angel of the Arts Award at St. Louis. This award, which will be presented in the spring of 2015-16 school year will be awarded to a 7th grade student who excels in the arts and maintains a strong GPA. We are hopeful that this award will also be attached to a scholarship.
Thanks to all St. Louis families and friends for your support, ideas, and care for the school. It is an honor and a blessing for all of us that you share your children with us every day. Each year we focus on a particular theme. This year we are focusing on excellence. We will work hard to do our best and we ask all our students to work hard to do their very best each day.
Sincerely,
---
–Mrs. Teddi Niedzwiedz, Principal
Sept. 9
Home and School Mtg. 6:00 Clunan Center
Sept. 11-12 School Pictures
Sept. 14
Junior High CYO kick-off 4:30pm
Sept. 17
Fall Fundraiser due
Sept. 26
Cardinal 5K 6:00pm
Oct. 3
All School Mass 8:15am
Oct. 8
Make-up Picture Day
Oct. 9
End of First Nine Weeks
Oct. 14
Home and School Mtg. 6:00 Clunan Center
Oct. 19
School Open House 1:00-2:00pm
Oct. 24
Parent/Teacher Conferences-No School
For more important dates refer to www.stlouismemphis.org
Welcome to our New Faculty
---
Stephanie Hubbard My name is Stephanie Hubbard and I am very excited to be joining the faculty at St. Louis Catholic School as a fourth grade teacher. I have a bachelor's and master's degree in Elementary Education. Prior to taking some time off to stay at home with my children, I was a teacher with the Memphis City Schools.
My husband Robert and I have 3 children, Elizabeth, Robert and Caroline. I am a member of LeBonheur Club and Christ United Methodist Church. I feel incredibly blessed for the opportunity to be joining the faculty at St. Louis and look forward to a great year!
Shannon Kirk My name is Shannon Kirk. This is my first year teaching at St. Louis Catholic School and I am very happy here. I love my students and my co-workers. I teach language arts, reading, and spelling. I am very excited that football season is around the corner as I am a huge Ole Miss fan! I attended Ole Miss and obtained my teaching degree. This is my fourth year teaching. I taught in public education and at Bowie Reading and Learning Center.
My little girl is my whole world and is proof that miracles do exist. Her name is Reese and she is 19 months old. She was born with a CHD (Congenital Heart Defect) and had two open-heart surgeries at a young age. Her first surgery was 6 days old and her second surgery was at 4 months of age.
She is now healthy, smart, and energetic! My husband, Alan, and I worship her and thank God every day for bringing Le Bonheur Children's Hospital into our lives. I enjoy reading, taking walks with my family, and living each day to worship the Lord. I look forward to a fantastic year!
Diane Kuehl A graduate of Holy Rosary Parish School, Immaculate Conception High School and Christian Brothers University, Diane has taught math, science, and religion at Immaculate Conception and has been a private math tutor for many years. In addition, Diane has taught math, science, and English for Gateway Christian Schools and worked with four year olds in the Mother's Day Out program at Holy Spirit Catholic Church. Diane and her husband George attend St. Francis of Assisi Church and have three sons and a daughter.
Marta King My name is Marta King, and I am from Memphis, TN. I graduated from Wooddale High School and Memphis State University. I have 2 children, Jason and Sarah, who are both married. I have one grandson, Wyatt, who was born on September 1! I love sports-especially watching the Memphis Tigers play football and basketball. My favorite pro team is the St. Louis Cardinals baseball team.
When I am not teaching, I am cooking for family gatherings, scrapbooking, or reading.
---
I thoroughly enjoy teaching Spanish; I want my students to love the language and its culture. I have been fortunate to have been in the teaching field since 1980, and I am thankful to be a part of the St. Louis family.
Debbie Brown I am a native Memphian and have been married to my husband Bob for 42 years. I have three grown children Rob and Justin (graduates of UT Knoxville) and a daughter, Rebecca (graduate of NYU). I have two wonderful grandsons-Dylan five and Lucas two and a beautiful granddaughter, Elliott Lowe-2 1/2 months.
I am a graduate of Memphis State and the University of Memphis. I have been in the health care field for over thirty years. For the last eighteen years I have been the Behavioral Health Counselor at St. Benedict/St. Francis schools. I enjoy riding horses at our farm, cookouts, hayrides and bonfires, reading and travelling, especially going to the beach with family.
I am pleased to be a new member of the St. Louis "family" as the K-4th counselor. I enjoy going into the classrooms with my puppet friends Kelly Bear, Pat the Pickle Puppet, and numerous other "special friends". Throughout the year we will be learning character education, ways to stay safe and healthy, and practicing the Golden Rule of friendship.
Dr. Dennis Carrigan I am from the New York area. My hometown is Bridgeport, Connecticut, about a 20 minute drive from the Big Apple. I grew up as a lifelong NY Yankee and NY Giant fan. I am a cradle Catholic, a product of Catholic schools all my life, essentially. We moved to Memphis when I was 14. My earliest memory of Memphis is starting high school at CBHS from a hotel room at the old Holiday Inn at Poplar and I 240. I now have 2 favorite home towns, New York AND Memphis, loving both dearly. After graduating from CBHS, I went to and graduated from Memphis State University, (now U of M) and then received my dental degree from the UTCHS in 1980. I practiced for 5 years and then did research for over 20, first at St. Jude hospital in Molecular pharmacology for 5 years and then at UT Memphis in the department of Pathology for 20 years. I began teaching in 2007 at St. Anne School on Highland and moved to St. Louis School this year. I have taught 4-8 science, 6-8 religion and 6-8 social studies. This year I am honored to have been asked to teach 7/8 Science here at St. Louis School.
I am married with one son, Neil Carrigan, also a CBHS and U of M graduate who has been married for 4 years. My wife of 38 years Cathy is a U of M graduate and currently works for the University of Memphis I am a Cursillista having made my Cursillo in February of this year. I do work as an altar server at the 4 PM Mass at St. Anne Highland on Saturdays which I consider a labor of love. I am also a Lector and Eucharistic minister.
Well, other than that I guess all you can say is that I am a 'cradle Catholic' who is quite comfortable in his faith and his life and I thank the good Lord every day for blessing me with such great friends and co-workers, especially here at St. Louis.
---
Karie Ticer Hello! My name is Karie Ticer. I am the 7th/8th grade Learning Lab Specialist, 7th/8th grade Computer teacher, and 6th grade S.O.A.R.ing teacher. I am a native to Memphis and graduated from the University of Memphis with a major in Special Education(K-12). My interest in teaching started in high school through volunteer work in the public schools. I have been a teacher for the past fifteen years, eight of those years were in junior high and the the other seven were in elementary. I also worked in an after school program that provided students with enrichment activities; as well as, reinforcing academic skills and recreational activities. In 2013, I was presented with the honor of Teacher of the Year at Bartlett Elementary School.
I enjoy spending my free time with my husband, Andy Ticer and son Drew. We are anticipating the arrival of our second child due in March. I also enjoy traveling, reading, biking, and working with children with special needs.
I am a member of St. Louis Church and so excited to be working with the youth at St. Louis School this year.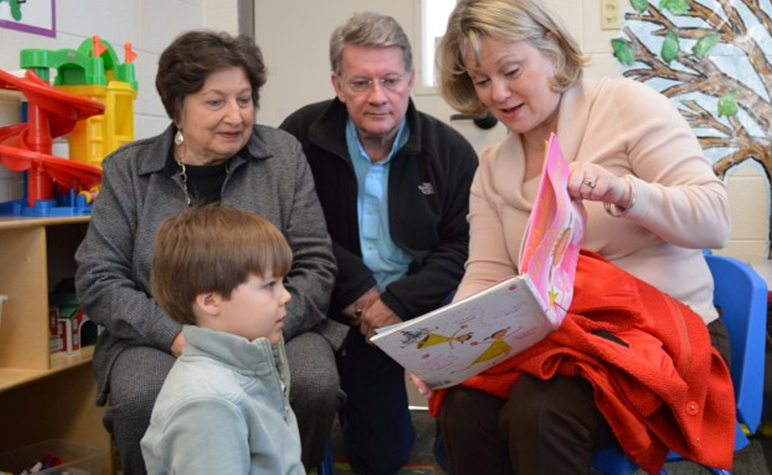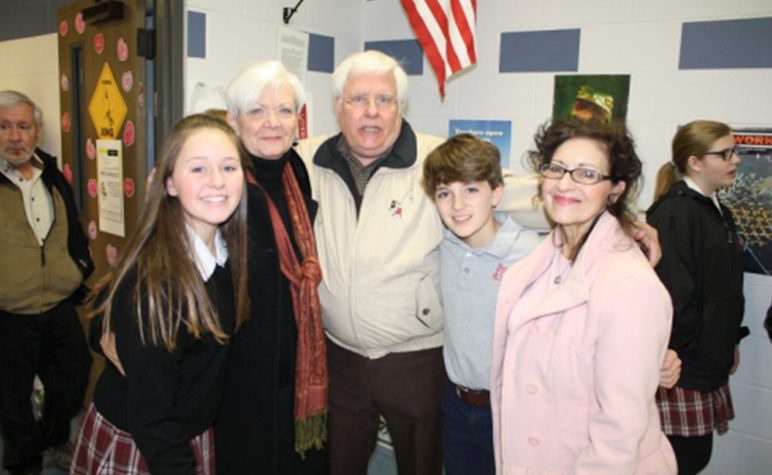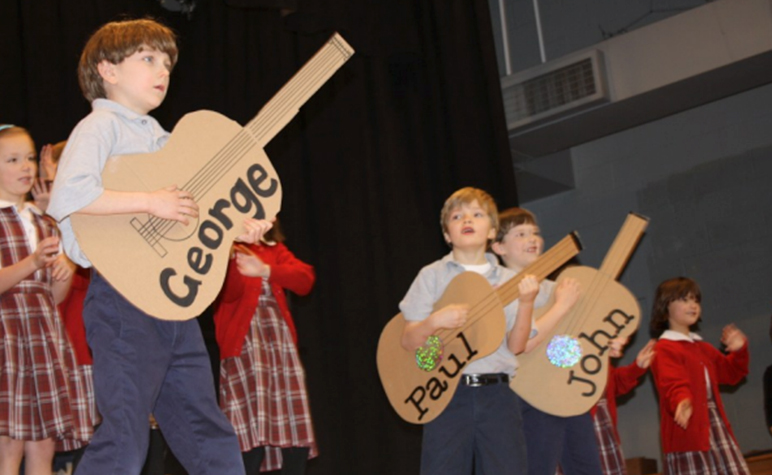 ---
S.O.A.Ring is an enrichment program offered at St. Louis Catholic School for students in grades 4, 5, and 6. It is designed for those students who have high standardized test scores and are high achievers in the classroom. Students who qualify for S.O.A.Ring must also exhibit good behavior. This program challenges students with a curriculum designed to encourage them to use higher level thinking skills. S.O.A.Ring is structured so that students are pulled out of their regular classroom one day a week to participate in thematic units. These units will challenge the students to use critical thinking skills and incorporate presentation, research, technology, and writing into the assignments. Ms. Chris Payne teaches fourth and fifth grade S.O.A.Ring and Mrs. Karie Ticer teaches the sixth grade students.
School Board Update
By Deenie Phelan
---
---
---
This quarter marks the beginning of the fifth year of the St. Louis Catholic School Board. Our Board serves in an advisory capacity, working closely with our pastor, Msgr John McArthur and our Principal, Teddi Niedzwiedz. Our primary challenge is to formulate school policies and strategic plans to enable the school to reach its long term goals.
In addition to attending quarterly meetings, our 13-person Board conducts research and performs committee work throughout each year. Recently, we steered a comparison report of our current junior high curriculum against other private and public schools in our area. We have also assisted with the SACS reaccreditation process, served on our school's technology committee bringing the Chromebook program to 5th and 6th grades, as well as represented St. Louis at various Diocesan and related school functions throughout our city.
One of the Board's most important responsibilities is the ongoing oversight of the school's financial operations. We also closely evaluate test scores and spend much time working with CBHS and St. Agnes High School to measure St. Louis graduate's needs and successes at the next level. The Board also addressed comments and suggestions from the annual parent survey taken this spring. Many changes taking place this school year are a direct result of this evaluation process.
The members of the School Board are honored and privileged to be a part of St. Louis Catholic School's growing success in academic and faith community affairs.
---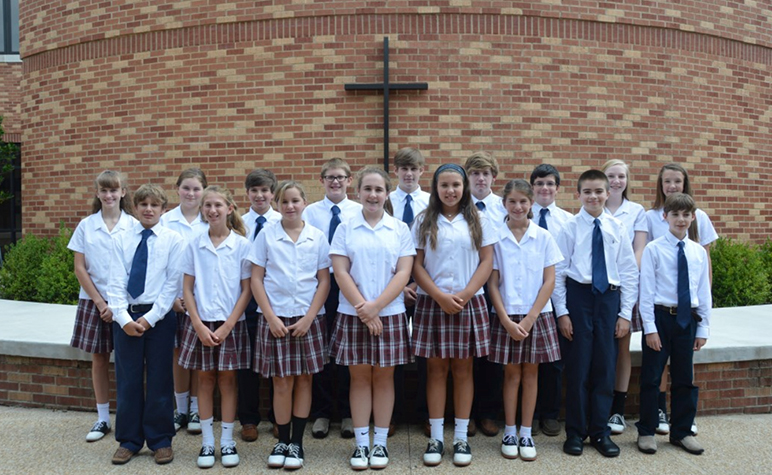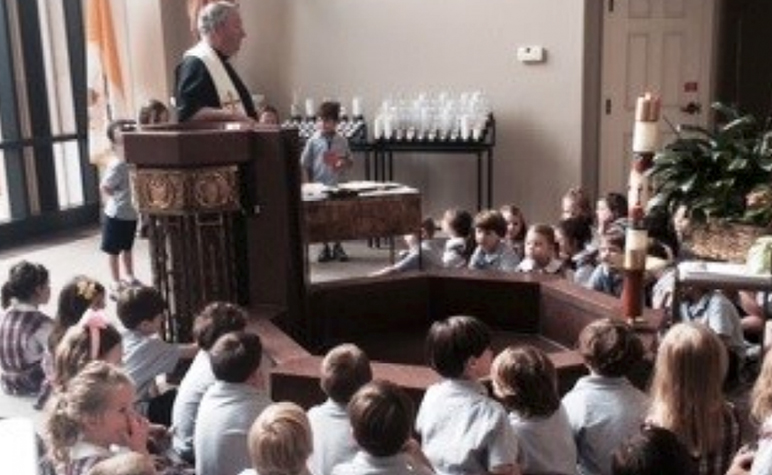 Congratulations to class of
2014 Alumni
---
Congratulations to Kyle Frasure, Sam Sampietro, Mitchell Marconi, Jackson Stanley, John Daniel Goodspeed, and Porter Bird for being selected to the CBHS baseball team.
Congratulations to Kate Spencer for making the SAA varsity cross country team.
Monsignor McArthur Speaks On The Sacrament
---
Monsignor McArthur spoke with the kindergarten classes about the sacrament of baptism. Monsignor talked with the students about baptism and then performed a mock baptism to show the students about using the holy water and oils.
---
---
---
Several St. Louis Catholic School students qualified for the Duke TIP program. These students were selected based on their standardized test scores on the Iowa Test of Basic Skills.
They will have the opportunity to take the ACT and/or SAT as seventh graders.
---
Kaitlyn Broughton
Ellie Navarre
Ethan Cary
Sarah Price
Alexis Grace Connor
Sarah Reno
Zoie Couch
Britain Ross
Katie Cunningham
Thomas Smith
Jackson Deneka
Joshua Springer
Katie Emery
Spencer Stalnaker
Joseph Heinz
Zachary White
Marc Anthony Marconi
---
Congratulations to all of these students. St. Louis Catholic School is very proud of you.
Volunteer at Feed My Flock on Saturday, October 18
Tinyurl.com/ feedmyflock
For more information contact Mary Margaret Koch (901)219-4617