---
---
---
Dear St. Louis Friends and Families,
---
Happy New Year! This year has started off with a bang! I am so proud of our 8th grade class! We received their scores on the High School Placement Test and overall, our students did well. Over twenty percent of the 8th grade class scored in the ninetieth percentile which is a fantastic testament to our teachers and students. The HSPT is a challenging test and Catholic high schools use this test as well as classroom academic achievement data to help predict which students will be able to handle Honors classes.
We have also celebrated Catholic Schools Week. This is a special time when we show our appreciation for the opportunities for both faculty and students alike to work and learn in a Catholic school. From the Faculty perspective, it is great to be able to share your faith each day with your students and to be able to teach Catholic Christian morality and virtues. From the students' viewpoint, many of them wrote essays this week talking about their love of learning about God, talking about their faith, going to Mass, and being a part of a close-knit Christian community. Three years ago, several of our students had the opportunity to assist Sr. Grace Saia, SCN write a children's' chapter book about the foundress of the Sisters of Charity, Mother Catherine Spalding and now it has been published. Those students are pictured on the back cover of the book. This is an experience that could only happen in a Catholic school.
January is also a great time for Grandparents here at St. Louis. The preschoolers and Junior Kindergarten sang very touching songs to their grandparents. After sharing doughnuts and Juice, the little ones enjoyed showing their grandparents around their classrooms. I had the privilege of being a surrogate grandma to one of Ms. Tracy's students. It gave me a little taste of what being a grandparent would be like. (I LOVED IT!) Each student in Ms. Tracy's room (with help from the teachers) wrote a page in a book about grandparents and the students were so elated when their teacher read it out loud to all the grandparents. Day two of grandparents' day began with Mass and doughnuts for all. The fifth through eighth grade students created special art work and other projects to show to their grandparents. I was very impressed by our older children. Sometimes when children reach 6th – 8th grade they do not want to invite their grandparents; however, we had a great turnout. The students were so sweet and welcoming. The grand finale of grandparents' day was day three! The gym was so packed with grandparents that we were not sure where we were going to put the students. Mr. Mullins, our music teacher and the k-4 teachers did an excellent job on the music performance! It was hard to resist not jumping up and dancing with the children.
This time of year is a great time to set goals. The faculty and staff at St. Louis are committed in the year 2014 to continue to work diligently to provide the highest quality Catholic education possible. We are dedicated to teaching the faith and providing a challenging curriculum that fully prepares our students for the next level. We appreciate the support and encouragement that we receive from our families and friends. That support is what makes St. Louis so successful. I wish all of you a happy 2014!
Peace and Blessings,
---
–Mrs. Teddi Niedzwiedz, Principal
Feb. 6 – Beta Club Induction after 8:15 Mass
Feb. 7 – Jump Rope for Heart
Feb. 7 – Registration packet due, grades K-7
Feb. 12 – 4th Grade States Fair, new gym
Feb. 12 – Author visitSister Grace Saia, SCN ; 9:30am
Feb. 17 – Presidents' Day; no school
Feb. 26-27 – Science Fair; new gym
Mar. 7 – End of the 3rd Nine Weeks
Mar. 10-14 – Spring Break
Mar. 17 – Summer uniform begins
Mar. 21 – Reports cards go home
Mar. 21 – All School Mass; Stations of the Cross
Mar. 21 – Men's Club Fish Fry
Mar. 28 – All School Mass; Stations of the Cross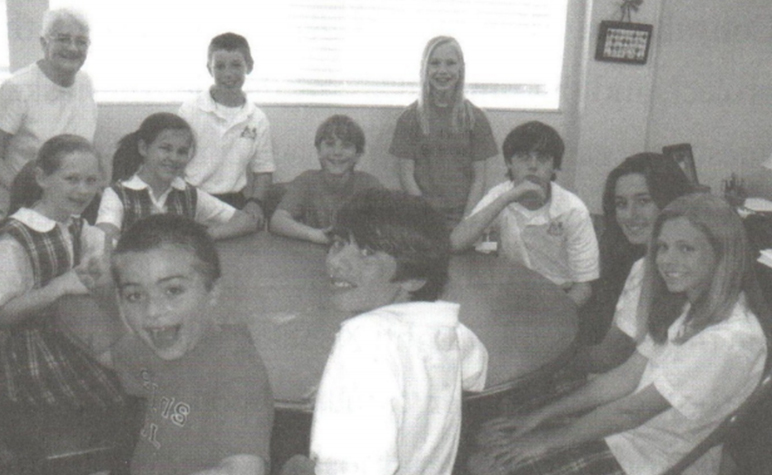 ---
Three years ago, twelve of our students began a journey with Sister Grace Saia, SCN. Sister Grace was writing the biography of Catherine Spalding, the foundress of the Sisters of Charity of Nazareth and she wanted the opinions of her target audience, children. These students made up her reading roundtable and offered editorial advice on the book. Her efforts have finally been realized; the book was published and this January Sister Grace began sharing it with the public. She will read excerpts from the book and she and the members of the reading roundtable will have a book signing at St. Louis in February.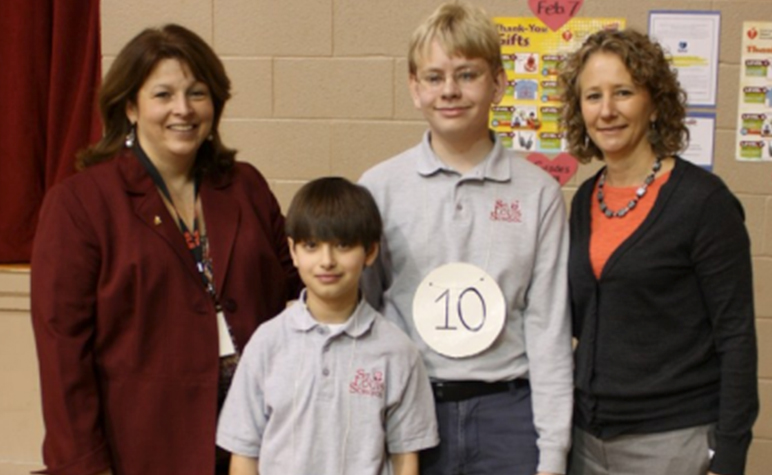 Ethan Ferguson Wins
the Geography Bee
---
Students in grades four through eight competed in the classroom setting to earn a spot in the 2014 St. Louis Geography Bee. Ten students qualified to participate in the school bee, which was held January 14, 2014. Those in the competition answered questions regarding United States geography and world geography. After several rounds of competition eighth grader Ethan Ferguson was crowned champion and fifth grader Zach Beck placed second. Ethan will take National Geographic's written exam in hopes of qualifying for the national competition. Congratulations to Ethan also for being selected to attend Vanderbilt University's Summer Academy for Talented Youth.
Grandparents, Our Special Friends
---
A highlight of Catholic Schools Week is the special visits from our grandparents. Smiles abound on the campus as both grandparents and students alike are thrilled with the visit from our special friends! We are not sure who enjoys it more. The week is affectionately called the grandparent marathon; grandparents were welcomed to the preschool on Wednesday, a visit with students in grades five through eight on Thursday, and school tours and a program with grandchildren in kindergarten through fourth grade on Friday. The amount of coffee and donuts devoured at St. Louis this week is only surpassed by the hugs and kisses exchanged between our students and their beloved grandparents. From the rendition of "You are My Sunshine" sung by the preschool to the iconic songs of the sixties performed by the kindergarten through fourth grade students a wonderful time was had by all.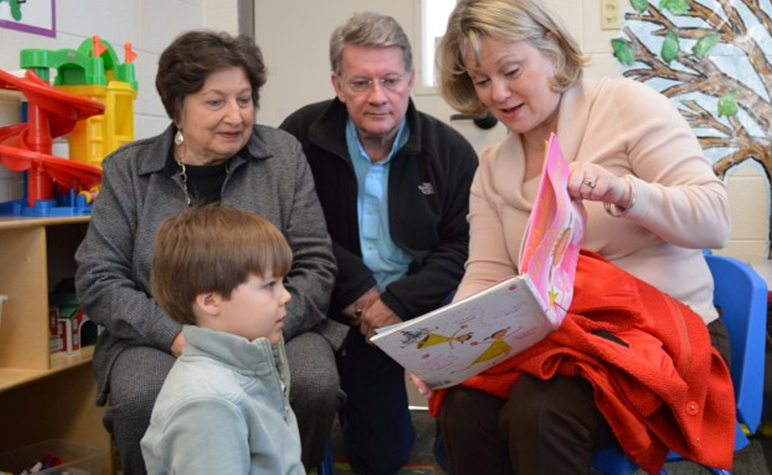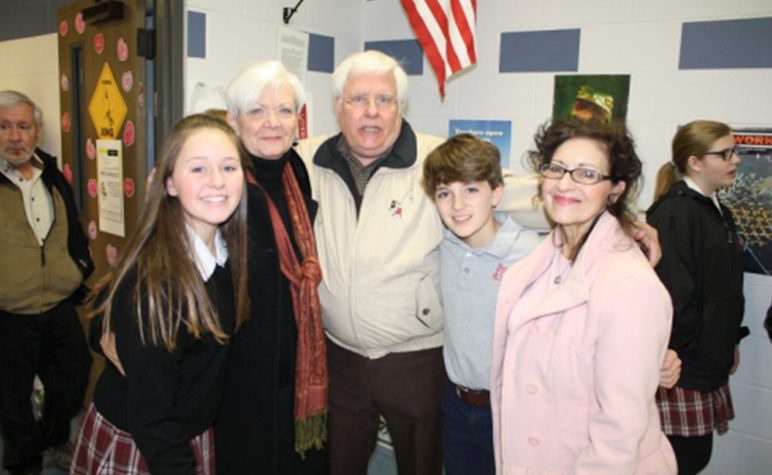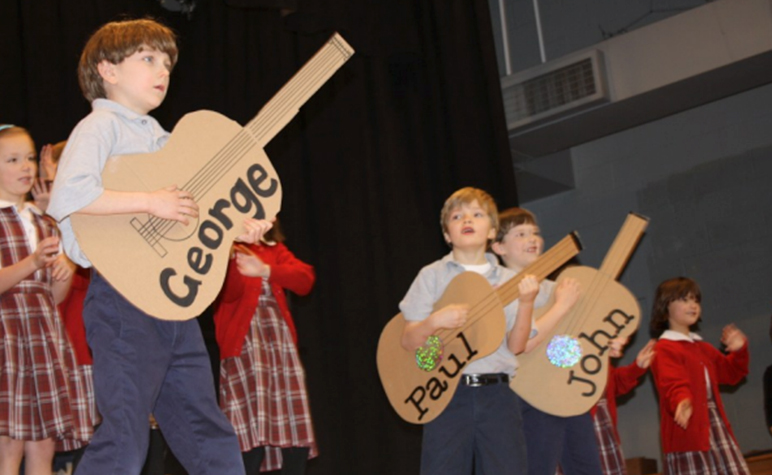 ---
---
---
Each year, Catholic Schools Week is celebrated across the nation during the last week of January. This is a special week at St. Louis where we proclaim the wonders of our Catholic schools. As Cardinal Dolan wrote this past week, "I sometimes wonder if the trials and hardship that come with our Catholic Schools are actually what make them so good. When you've got boards, principals, and priests who have to scrape for every dime; when parents have to sacrifice luxuries and even some essentials to keep their kids in our schools; when grandparents and volunteers pitch in to paint classrooms and repair leaks; when you've got teachers who could make a lot more money elsewhere, but freely choose Catholic schools; well, then you've got grit, pride, love, and determination. " The St. Louis community epitomizes his description of Catholic schools and is a true reflection of why we are so successful.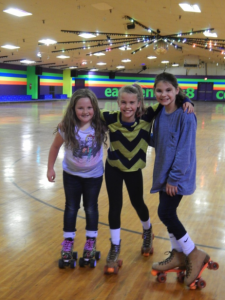 Catholic Schools Week is a week to celebrate our students and our mission. This year we kicked off the week with a skating party for students in grades 1-4 and a bowling party for students in grades 5-6. Mrs. Niedzwiedz hosted a trivia game for students on Tuesday, Wednesday, and Thursday where they competed in a quiz show style game by answering questions in five categories: St. Louis School and community, Old Testament, New Testament, Catholic faith traditions, and the saints. The winners were treated to a free ice cream treat. Several classes also wrote essays on what it means to the students to attend a Catholic school.
Another focus of the week was that of service to others. Each student was asked to bring a can of soup or crackers to donate to Saint Vincent de Paul soup kitchen. A tenet of our faith is to do unto others as we would have them do unto us...helping those in need is an essential skill that we hope our students will emulate throughout their lives.
---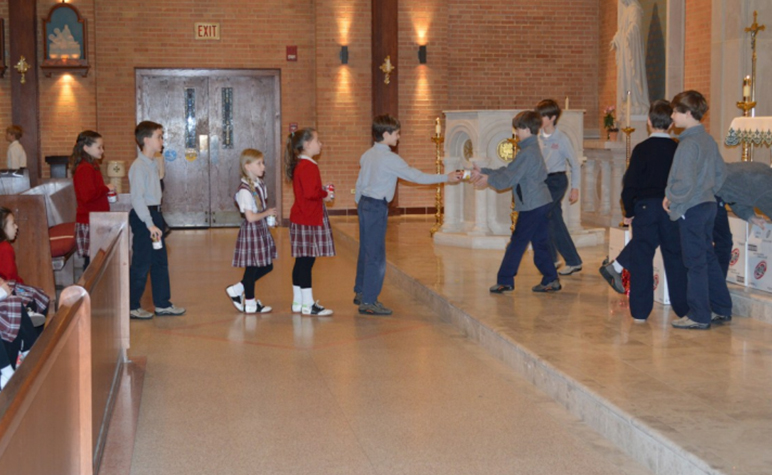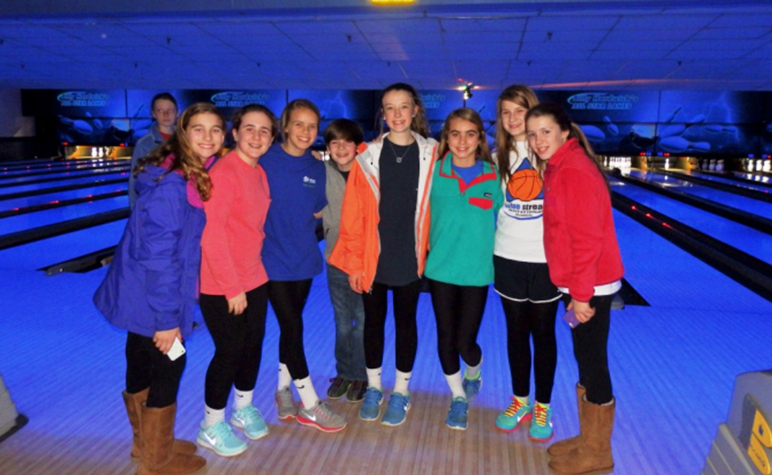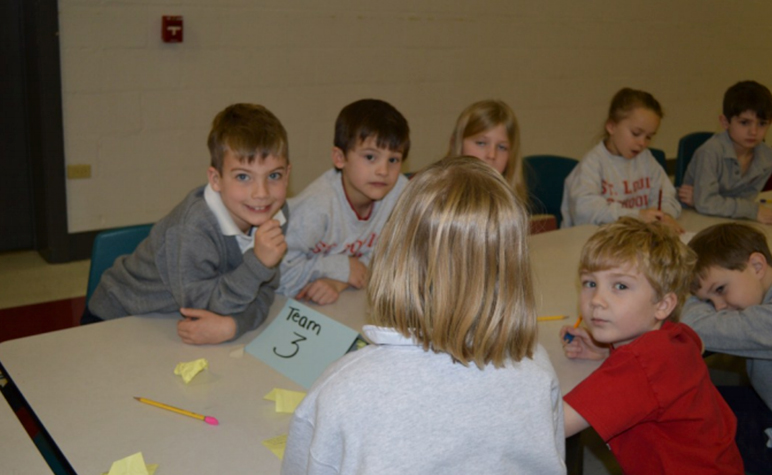 Thank you for supporting the book fair and helping us raise $1559.21 for our library!
---
Congratulations to the following SLS alumni for being elected class officers at St. Benedict at Auburndale: Courtney Cremerius(SLS 13), freshman class secretary; Catherine Saig,sophomore class secretary.
Congratulations to Madeline Howard (SLS '10), Alanna Oliphant (SLS '10), and Maria Marconi (SLS '12) for being named SBA Ambassadors.
Congratulations to Megan Wilson (SLS '11) for placing fifth in the state in the individual competition at the TSSAA state bowling championships.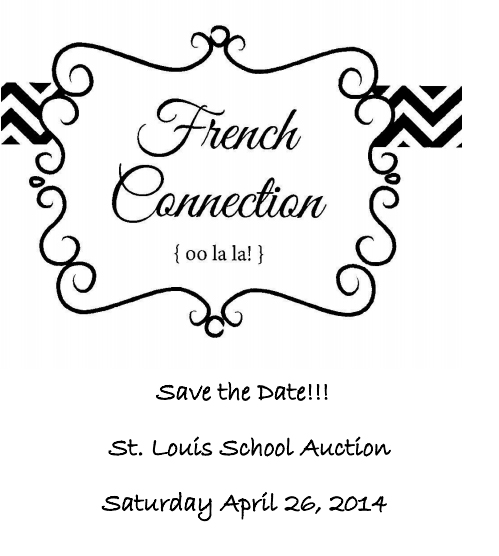 Faculty Retreat Focuses
on Faith
---
Sister Trudie led the faculty retreat on Developing Faith-A Continual Journey. The St. Louis faculty gathered for Mass and a retreat in the DLC on Friday, January 17. Throughout the day we were able to share our experiences and discuss our personal faith journeys. It is one of the many blessings of teaching in a Catholic school, to share our faith with those around us. One of the many discussions during the day centered on James Fowler's Stages of Faith.
Undifferentiated Faith (ages 0-2)
Intuitive-Projective faith (ages 4-7)
Mythic-Literal faith (school age)
Synthetic-Conventional faith (age 12)
Individual-Reflective faith (young adult)
Conjunctive faith (mid-life)
Universalizing faith
As we grow in our faith life our goal is to spread our faith through actions and deeds.
---
---
---
4th Grade: Caroline Baker, William Gossett, Michael Ross, Jefferson Schmitt, Ethan Soefker, Madeline Tonole, Andrew Wade, Jacob Ward, Kaylie White, Margaret Wood
5th Grade: Matthew Durden, Richard Hauser, Josh Jones, Clay Kirkland, Hayden Meadows, Brendan Phelan, Nicholas Quarles, Jack Scherson, Caroline Senter, Rachel Ward, Celia Watson, Chloe Webster
6th Grade: Phillip Benedict, Taylor Brenner, Ethan Cary, Alexis Connor, Katie Cunningham, Jackson Deneka, Carson Kane, Jackson Lyons, Marc Anthony Marconi, Andrew Martin, Maddie McGee, Sarah Grace Price, Sarah Reno, Brittain Ross, Spencer Stalnaker
7th Grade: McKenzie Barnett, Karen Benedict, Alyssa Donato, Patrick Koch, Gerard Tavoleti, Robert Ward, Emily Wilson
8th Grade: Lee Griesbeck, Katey Grace Jones, Anna Nieman, Henry Ward
4th Grade: Grace Barksdale, Tyler Brimm, Auden Brummer, Hudson Carr, Fontana Cary, Anna Grace Cervetti, Anthony Cestaro, Grace Cestaro, Caroline Dorian, John Drouillard, Ben Evangelisti, Jane Fracchia, Madeleine Gaia, Alex Grusin, Nathan Laurenzi, Haley Lutts, Katherine McClusky, Michael Novarese, Will Polzin, John Michael Posey, Hunter Pratt, Sophie Spencer, Gabby Spiotta, Anthony Steinriede, Ginny Tavoleti, Sam Wallace, John Webb, Connor Whittington, Jacob Wildman, Thomas Wilson
5th Grade: Nora Burton, Maria Cremerius, Mikala Decker, Drake Dunaway, Grace Goughnour, Mary Hatley, Grant Herring, Mickey Hossenlopp, Ben Jones, Oliver Jones, Lydia Koch, Anna LaBarreare, Steven Lee, Sean Mullen, Knox Perry, Trey Price, Dylan Smarra, Sophie Wingfield
6th Grade: Kaitlyn Broughton, Cecilia DiMeglio, Katie Emery, Caroline Evangelisti, Sam Goodman, Aidan Johnson, Charlie Moore, Sarah Moran, Hughes Raiford, Allie Sloka, James Strickland, Hunter Stroud, Zachary White, Jeni Grace Wolbrecht
7th Grade: Rachel Baioni, Samuel Barnett, Allison Bryant, Anna Kate Cremerius, Bridgette Groben, Mason Hall, Claire John, Kara Kane, Gracie Kitchens, Garrett Knott, Anna Riley Pieroni, Connor Saig, William Trotter, Reid Voss, Christian Ward Tee White Turner Wolffe
8th Grade: Ryan Anderson, Max Carroll, Chip Davis, Ethan Ferguson, Grace Gage, John Daniel Goodspeed, Jack Herring, Campbell Johnson, Mitchell Marconi, Austin Martin, Finn Mullen, Sam Sampietro, Nick Scherson, Walter Soefker, Kate Spencer, Savannah Stovall, Fiona Toomey, Kaitlyn Trainor