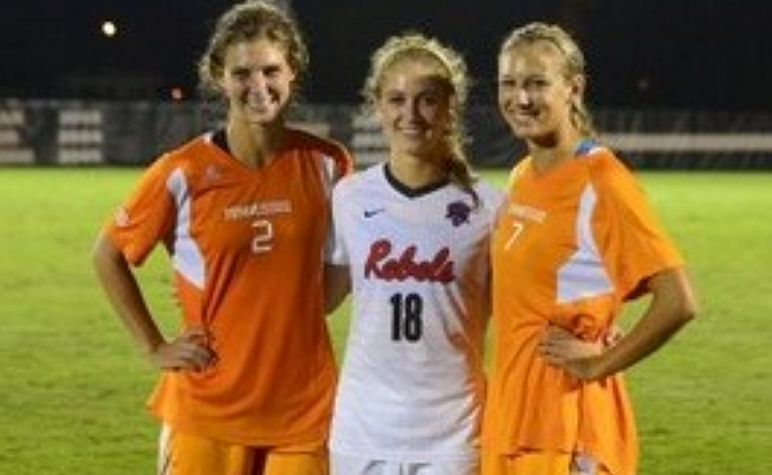 ---
Melissa Capocaccia and McKenzie Parma  are playing Division 1 soccer at Ole Miss. Mary Ruth Locastro plays soccer at Austin Peay University and Allison Gaia is playing volleyball at Hendrix University.
---
---
Joel Cox recently one the B'nai Brith International Writing Contest. Joel's book The Peanut Butter Bee was published in June of 2011 and will soon be in bookstores.
Suzanne Capocaccia plays Division 1 soccer at The University of Tennessee.
---
---
Sadler Alexander was commissioned from the United States Naval Academy in May 2015 and will be attending flight school in Pensacola, FL.
Lou Posey graduated third in his class from the United States Air Force Academy in May 2015 and will be attending Vanderbilt Medical School in the fall.
---
---
Stephen Orians was commissioned from the United States Air Force Academy in May 2015 and will be attending ENJJPT Pilot Training at Sheppard Air Force Base.
Caroline Capocaccia has completed her NCAA soccer career at The University of Tennessee and begins medical school in the fall of 2014.
Michael Hogan was elected 2013-2014 student body president at Mississippi State University.
---
---
Bruck Brucker graduated with honors from CBHS in 2009.  He is a rising sophomore at Harvard University, majoring in Economics.  He is also on the Harvard track team, where he is throwing the shotput and discus and is currently ranked 6th in the Ivy League!
---
---
Sarah Shaw is an International Studies major in the Croft Institute for International Studies at Ole Miss.  She spent five months living with a Uruguayan family and studying at La Universidad Catolica del Uruguay in Montevideo, Uruguay.  She participated in an immersion program and took classes there to learn more about the culture and history of the country.  In addition, she worked with children in the community to put on a play.  She also began research on her thesis topic on Mercosur, the Common Market of the South, which is a South American trade organization.
---
---
Lindsey Haaga graduated St. Agnes in 2001. She attended the University of Tennessee Knoxville and received a bachelor's degree in English literature, and a master's degree in English education.  While at UTK, she studied abroad for one semester in Sydney, Australia.  She taught at Ridgeway High School for the past 4 years and is currently starting her first year teaching English Literature at CBHS. She is a Youth Advisor for the St. Louis Church CYO youth groups--both junior and senior high. She has attended seven retreats with the senior high youth group and has gone on all eight mission trips with both groups. She also works with the Diocesan Search and Voyage retreats throughout the year.
---
---
Chip Crump is an internist at a multi-specialty group called Diagnostic Center in Chattanooga, as well as the medical director for Amedysis Hospice.  He was voted Best of the Best Primary Care Doctors in 2009 by Chattanooga Times Free Press!  He has a 13 year old son Athey, who is a 7th grader at McCallie and a 12 year old daughter Maggie, who is in the 6th grade at GPS.